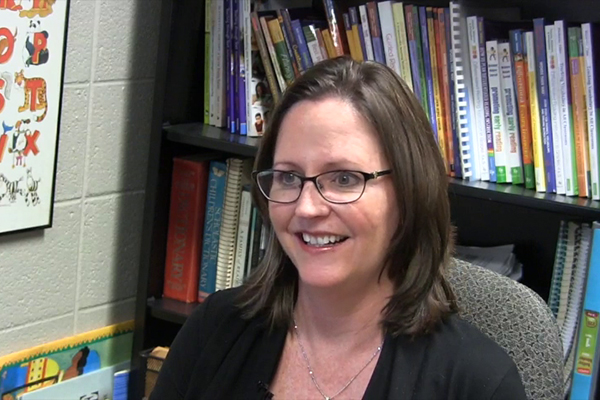 Technology in the classroom
Education professor uses SMART Slates, Google Docs to better prepare students
(Editor's note: This article is part of a continuing series by University IT on innovative use of technology in campus classrooms.)
2:39 p.m., Oct. 7, 2014--Sharon Walpole, a professor in the University of Delaware School of Education, has been turning heads and impressing students with the technology she's using in her classroom.
In August 2012, Walpole received a UD Transformation Grant, a grant program sponsored by UD Information Technologies (IT) and UD's Center for Teaching and Learning (CTAL) designed to help faculty add instructional models not currently in use at UD, eliminate barriers faculty have identified in their teaching, and help define the next generation of educational technology.
June 6: UDid It! Picnic
All UD faculty and staff members are invited to attend the annual UDid It! employee appreciation picnic, set from 11 a.m.-1:30 p.m., Monday, June 6, on The Green.
2FA protects you
If you are using two-factor authentication (2FA), even if a hacker has your password, your information is probably safe.
"Now my students are getting a full dose of crazy technology experiments," Walpole laughed, referring to the different technologies she's using, including SMART Slates, Google Docs, Camtasia, Canvas, and even Apple GarageBand. "When they graduate, my students are going to be so far ahead of most teachers, and they're going to be well poised to teach their students according to new U.S. research and writing standards."
Walpole's first big move was to bring SMART Slates to the UD campus.
Because there aren't many SMART Boards on campus, Walpole and her colleagues were worried that their undergraduates weren't learning how to use the corresponding SMART software, a popular computer program for elementary educators. To avoid installing the large electronic SMART Boards in every classroom, she used the funds from her Transformation Grant to purchase SMART Slates instead. Colleagues now teach students how to use the SMART software in their technology classes.
"SMART Slates are handheld devices that allow you to turn your computer into a SMART Board with just your computer, a projector, and a regular screen," she explained. "It doesn't matter whether a specific classroom has a SMART Board or not, you can just bring a Slate in with you and you're set." 
Walpole uses the Slate to show undergraduates how they can teach young children to physically sort letters and words based on their sound and rhyme patterns. "Lessons in literacy greatly benefit from SMART software, and I solved a big technology problem by buying SMART Slates," she said.
Next, to further prepare her students for their eventual teaching positions, Walpole learned how to use Google Docs to implement cooperative learning activities in her classes. She consulted weekly with IT staff to help accomplish her goal of incorporating even more technology into her classroom.
"Cooperative learning occurs when a group of students accomplish a task with both individual and group accountability," she said. "It helps students better archive their learning, and interact and transform the content in ways that help build their understanding and memory."
Using a structured, shared Google Doc, students work in small groups during class to answer reading-based questions. This classroom-based learning activity replaces lecture-time with writing and collaborating in a group. 
"I'm convinced that the less I talk, and the more my students talk, the more they're going to learn," Walpole added. "With the group, they can actually figure out any nuanced misunderstandings they might have had, and since they've talked to one another before listening to me, we have much better conversations in class."
To help make time for her SMART Slate training and Google Doc collaboration in class, Walpole is creatively using Camtasia, Apple GarageBand, and Canvas to implement a "flipped classroom" in some of her courses. This means her students watch online video lectures out of class, but do homework in class — a process that's backward from the usual course format. 
"I record short segments of lecture on Camtasia and assign the lectures as if they're readings," she said.
Walpole also uses Apple GarageBand to record portions of the audio of every class session. With GarageBand, she has the ability to segment the recordings by topic and export them as podcasts directly to her class Canvas pages. Since the content of her courses is cumulative and not easy, students have the opportunity to log in to Canvas and review the recordings as many times as they want.
Walpole's combination of SMART Slates, Google Docs, Camtasia, and Apple GarageBand is helping her students become fluid, confident, and creative in the field of educational technology. 
"You're trapped by technology if you can't control it, and that can be scary for a professor," Walpole admitted. "But the technology services here are unparalleled in terms of flexibility and friendliness. With the Transformation Grant, all you have to have is a problem, and IT can help you think about whether there are particular technologies that can help you solve it."
Walpole concluded that, "Our students here at UD are going to be adept at the creation and use of educational technology — they learn how to utilize it in their classes here, and they're using it everyday in their real-life experiences. They need to be able to teach children to use technology and digital tools to construct knowledge. When they begin their teaching careers, I know my students won't find teaching with technology to be as challenging as some current teachers do."
About Sharon Walpole 
Walpole is a professor in the University of Delaware School of Education. Her research focus is the design and creation of professional development efforts in literacy, as well as the design of small-group differentiated reading instruction. She works with literacy coaches, reading specialists, and administrators to build school-wide systems that support teachers, especially those working for children at risk.
Walpole has worked for 12 years as a consultant for the state of Georgia's Department of Education, and helps to maintain ComprehensiveReadingSolutions.com, a module-based website designed to provide free materials to teachers for professional learning. She has co-authored eight books for teachers and teacher leaders, and she helps edit The Essential Library of PreK-2 Literacy, a series for the early primary years.
Article by Christopher Johnson
Photo by Alexandra Reid