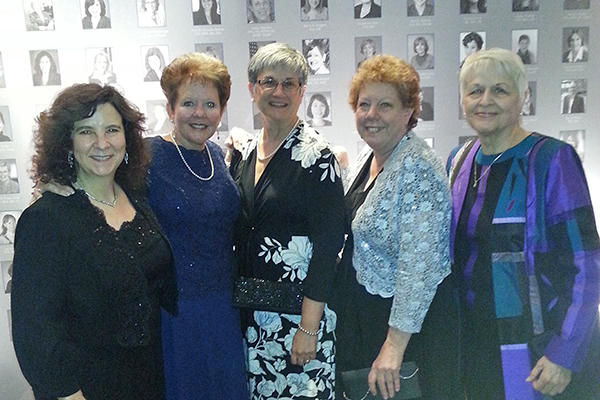 Nurse leaders inducted
Brewer-Smyth, Herrman named fellows of American Academy of Nursing
10:33 a.m., Oct. 22, 2014--Kathleen Brewer-Smyth and Judith Wheaton Herrman, faculty members in the School of Nursing at the University of Delaware, were inducted as fellows of the American Academy of Nursing (AAN) during the organization's 2014 Transforming Health, Driving Policy Conference on Oct. 18 in Washington, D.C.
They were selected for their "leadership in education, management, and policy and work to improve the health of the nation."
National Medal of Science
President Barack Obama recently presented the National Medal of Science to University of Delaware alumnus Rakesh Jain.
Warren Award
Rosalind Johnson, assistant dean for student success in the NUCLEUS Program in UD's College of Arts and Sciences, was presented the John Warren Excellence in Leadership and Service Award during a May 26 ceremony.
Brewer-Smyth has been a leader in identifying, preventing, and managing neurological impairment in high-risk marginalized populations. She was the first to document the prevalence of neurological impairment in female prison inmates during the decade after the closure of facilities for long-term management of neuro-psychiatric conditions. Her award-winning research has had worldwide impact, advancing the science and evidence-based practice in neuro-rehabilitation.
Herrman is a nurse educator with a passion for adolescents, nursing education, and creative teaching strategies across the lifespan. She is actively involved in research related to adolescent decision-making and sexuality, interpersonal violence prevention, and teaching strategies focusing on age-related learning. Her research has examined adolescent parenting, sexual decision making, teen pregnancy prevention, adjustment to illness, teen dating violence, and other issues impacting teens.
"The American Academy of Nursing welcomes this stellar cohort of new fellows," said AAN President Diana Mason. "As clinicians, researchers, educators, executives, and leaders in all sectors of our society, they are joining the nation's thought leaders in nursing and health care."
Brewer-Smyth and Herrman join two other UD nursing faculty who are AAN fellows — Barbara Habermann, Nannie Longfellow Professor, and Veronica Rempusheski, Jeanne K. Buxbaum Professor.
The AAN serves the public and the nursing profession by advancing health policy and practice through the generation, synthesis, and dissemination of nursing knowledge. Academy fellows are nursing's most accomplished leaders in education, management, practice, and research. They have been recognized for their extraordinary contributions to nursing and health care.
Article by Diane Kukich