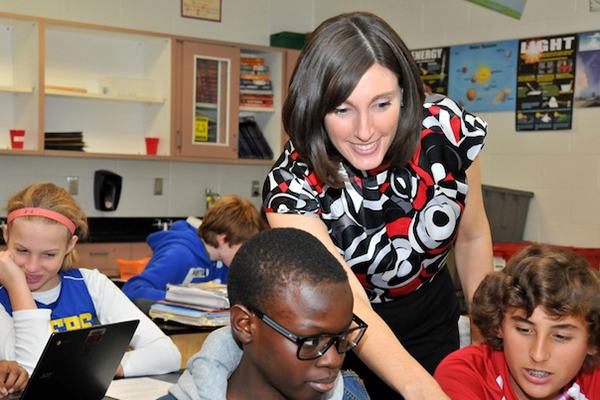 Head of the class
UD alumna Megan Szabo earns Delaware Teacher of the Year honors
12:36 p.m., Nov. 10, 2014--Megan Szabo, a University of Delaware alumna whose career path was set when she decided to combine her love of science with the inspiration she found from watching her father teach a high school class, has been named Delaware's 2015 Teacher of the Year.
Szabo, who earned her bachelor's degree in biology education at UD in 2003, today teaches seventh- and eighth-grade science at Postlethwait Middle School in the Caesar Rodney School District. She competed for the statewide honor, which was announced by Gov. Jack Markell at a dinner last month, with 19 other K-12 teachers, each representing his or her district or the state's charter schools.
National Medal of Science
President Barack Obama recently presented the National Medal of Science to University of Delaware alumnus Rakesh Jain.
Warren Award
Rosalind Johnson, assistant dean for student success in the NUCLEUS Program in UD's College of Arts and Sciences, was presented the John Warren Excellence in Leadership and Service Award during a May 26 ceremony.
With tentative plans to become a doctor, Szabo entered UD with a major in biological sciences, but when she began having second thoughts about attending medical school, her mother suggested she visit her father's classroom at Newark High School. Although both her parents were educators — or maybe because of that fact — she had never seriously considered a teaching career, she said.
"My mom was constantly telling me that I'd make a great teacher, but I wasn't that interested," Szabo said. "But then I walked over to Newark High one day and watched my dad, who was teaching a really cool social studies class that day, and it just sparked something in me. I could see that his students were engaged and excited, and it made me realize that this might be something I'd like to do."
She switched her major to biological sciences education, a specialization in the College of Arts and Sciences' Secondary Education program, and immediately knew she had made the right decision, she said. 
"I never thought about teaching anything other than biology," Szabo said. "That's the subject I loved. What I didn't think I'd ever be doing is teaching middle school, but as soon as I started in the classroom, I realized how great middle school students are."
Calling her students "energetic and talkative," Szabo said she channels that energy into fast-paced, hands-on educational activities that don't give the youngsters time to get bored with a subject. Her students do three or four lab activities each week, she said, and in an average 49-minute class period, she rarely talks for more than 10 minutes without taking a break to have students write or do some other active-learning exercise.
"My students may not remember every itty-bitty detail about what they learned in seventh- and eighth-grade science, but they leave my class as confident learners who are able to make observations, see connections, solve problems and think scientifically," she wrote in her Teacher of the Year portfolio.
"For me, teaching them how to be a scientist is just as important as teaching them science, [and] the best way for my students to really learn science is to experience it themselves."
Szabo, who also has a master's degree in secondary school counseling from Wilmington University, praised her undergraduate program at UD, with its emphasis on content as well as teaching-methods classes and field experience in the classroom. She said the other science courses she took in addition to biology have been helpful in teaching middle school, where some of her instruction crosses disciplines.
"I'm really glad that I learned so much science at UD, and not just limited to biology," she said. "It prepared me very well."
Szabo cited David Smith, professor emeritus of biological sciences, as one of her role models in the classroom.
"He was so dynamic and so energetic that it was clear he not only knew the subject matter extremely well but was also enjoying teaching and interacting with his students," she said. "I looked at him as someone I'd hope to be like as a teacher."
Szabo has taught at Postlethwait since 2005. She is a team leader, head coach of the school's Science Olympiad and a "Next Generation Science Standards" lead teacher.
About the Teacher of the Year program
The Delaware Department of Education has operated the Teacher of the Year recognition program since 1965, with a goal of finding the teacher who is most representative of the entire profession. 
The honoree is selected after a process that includes classroom observations, portfolio reviews and consideration of the finalists by a representative panel. 
During the year, Szabo will speak to community groups, business leaders, legislators and educational organizations to inform the public about Delaware schools. She also will be the state's candidate in the National Teacher of the Year program.
Article by Ann Manser
Photo courtesy of Caesar Rodney School District