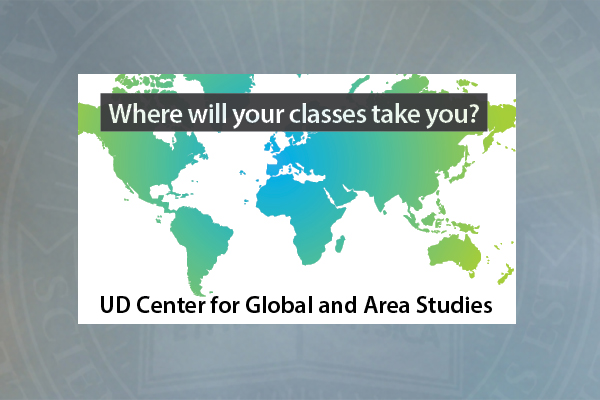 New global studies minors
Classes offer global perspective, opportunity to increase global awareness
8:11 a.m., Nov. 24, 2014--Students looking to internationalize their academic experience at the University of Delaware now have two new options -- the interdisciplinary minors in global studies and global studies with language.
The College of Arts and Sciences' Center for Global and Area Studies (CGAS) recently launched these minors "to prepare students to succeed in a world that is increasingly globalized," said Cynthia Schmidt-Cruz, interim director of area studies. 
Fulbright awards
Three University of Delaware students and an alumna have received word this spring that they will travel abroad as part of the newest class of Fulbright Student Program award winners.
Peace Corps plans
Two University of Delaware students, John McCarron and Bridgette Spritz, have been selected as Peace Corps volunteers and will serve in Ghana and Rwanda.
The global studies minor is 16 credits, and includes seven credits of core courses, and nine credits of elective courses. The global studies with language minor is 19 credits, adding six credits of a foreign language requirement and paring down elective credits to six. The foreign language requirement may be fulfilled through completion of two courses at the 200-level or above in one of 10 languages – Arabic, Chinese, French, German, Hebrew, Italian, Japanese, Portuguese, Russian, or Spanish.
A one-credit core course, ARSC300, is the spring 2015 lecture series titled "Globalization, Organized Crime, and Terrorist Networks," and is open to students from any academic discipline.
Students in the two new minors may choose from one of two tracks – Global Systems: History, Politics, Gender and Culture, and Human Rights and Security – for the program that best matches their interests and complements their majors. 
According to Schmidt-Cruz, now is a great time for students to considering adding a minor, as spring class registration is now underway. Students are invited to check out the complete list of spring courses that count toward the global studies minors and discover more options via the online course catalog.  
For a copy of the ARSC300 schedule in PDF format, click here.
The Center for Global and Area Studies oversees numerous majors and minors focused on developing knowledge of the world and its interconnected regions.  
Students can explore UD's area studies programs, including African Studies, Asian Studies, European Studies, Islamic Studies, Jewish Studies, and Latin American and Iberian Studies online.
Students interested in foreign language majors and minors are encouraged to visit the Department of Foreign Language and Literature's website.