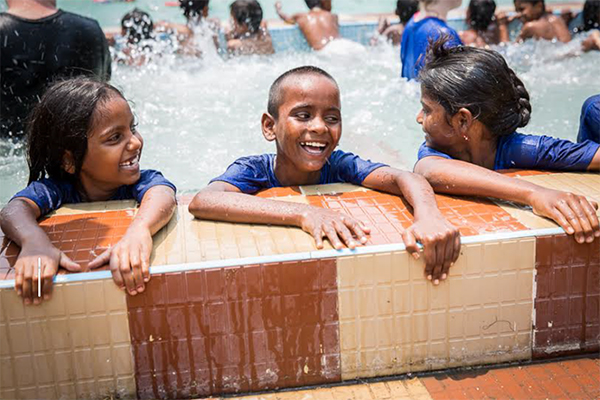 Global initiative to 'kNOw Violence'
UD's Guerra works with international partners to prevent childhood violence
2:50 p.m., Nov. 6, 2014--The Institute for Global Studies (IGS) has announced that the University of Delaware will be the U.S. host university for "kNOw Violence in Childhood: A Global Learning Initiative." 
The initiative seeks to address the challenge of violence in childhood, with a specific emphasis on how to translate evidence to action on a global scale. 
Fulbright awards
Three University of Delaware students and an alumna have received word this spring that they will travel abroad as part of the newest class of Fulbright Student Program award winners.
Peace Corps plans
Two University of Delaware students, John McCarron and Bridgette Spritz, have been selected as Peace Corps volunteers and will serve in Ghana and Rwanda.
The central premise is that violence is preventable, and prevention strategies can lead to building better lives for children. Although the initiative will look at violence broadly, particular emphasis will be placed on sexual violence, abuse, gang and organized violence, exploitation and school violence.
Under the leadership of Nancy Guerra, IGS director and professor of psychological and brain sciences, the institute will provide oversight and management for various operations, learning groups, research projects and public forums over the next two years. 
The multi-million dollar initiative is funded by a variety of foundations including Bernard van Leer, Oak Foundation and UBS, and also is receiving support from UNICEF. The secretariat is the Public Health Foundation of India. 
The initiative will fill identified gaps by working with a team of leading global scholars from across academic disciplines to analyze and synthesize existing evidence and communicate key recommendations from that evidence to funders, policymakers, practitioners and other stakeholders who can help address the problem. 
Planned products include a major flagship global report, a series of working papers, and a set of case studies of effective practices using the Harvard Business School Case Method. 
Co-chairs of the initiative are A. Shiv Kumar, director of the International Centre for Human Development (IC4HD) in India, and Baroness Vivien Stern, member of the House of Lords in the United Kingdom. 
"I am very glad to be associated with the University of Delaware as we launch a global project to prevent violence in childhood. Our project will bring a new focus into the debate," said Stern. "By involving distinguished scholars from around the world we intend to put the best knowledge and evidence into the public domain and engender a new confidence globally, regionally and locally, a confidence that violence against children can be prevented and effective methods of achieving prevention can be found." 
In addition to providing oversight for the initiative, Guerra will serve as co-chair for the learning group on evidence-based prevention. Theresa Betancourt of Harvard University is the other co-chair of that group. Their efforts will be directed toward synthesizing existing evidence on effective prevention programs and practices in community, school, and family settings, with a particular focus on programs in low and middle-income countries. 
"Unfortunately, much of the global evidence for best practices in prevention comes from Western and high-income countries, and these findings often do not consider the more extreme conditions that impact many children around the world," said Guerra.
The project provides IGS with the opportunity to be involved in a global initiative with high visibility and impact. "We have a social responsibility to leverage scientific findings to help children do well and keep them safe," said Guerra.
Guerra will travel to India in late November along with IGS staff member Rachel Garcia and graduate student Noel Shadowen for the official launch of the initiative.
IGS provides an important venue for faculty who want to develop global partnerships involving multiple international funders and collaborators. For more information, contact Dan Bottomley, associate director for grants, contracts and partnerships, or Kim Bothi, associate director for science and engineering. 
Article by Elizabeth Adams
Photo by Elizabeth McCoy