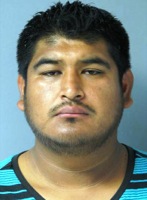 Sexual assault arrest
Man charged in sexual assault of UD student
2:52 p.m., Nov. 3, 2014--A 28-year-old man has been charged in connection with the sexual assault of a University of Delaware student that occurred early Friday, Oct. 31.
Candido Tepoz of Mexico, who is currently living in the Newark area, has been charged with one count of second degree rape, two counts of third degree unlawful sexual contact, two counts of second degree unlawful imprisonment, one count of criminal impersonation and two traffic offenses. 
On the morning of Oct. 31, a 19-year-old University student filed a report with UD Police that she had been assaulted by an unknown man who lured her to his vehicle by offering her a ride home, eventually dropping her off near a campus residence hall. 
After reviewing surveillance video and records from the Newark Police license plate reader, UD detectives were able to identify the vehicle and obtain its Delaware registration number. 
UD Police located the owner of the vehicle and were able to determine that the vehicle was regularly operated by another individual. Detectives identified the suspect's address, located him and conducted a vehicle stop on Kirkwood Highway. During the stop, the suspect gave a false name, but he was later positively identified by the victim.
UD Police arrested Tepoz, who was arraigned, given $65,000 secured bail and committed to Howard R. Young Correctional Institution.
Anyone with additional information about this case is asked to contact University of Delaware Police at 302-831-2222.
Members of the University community are reminded to walk in groups whenever possible. Resources available to students, faculty and staff include taking a UD shuttle bus or calling UD Police at 302-831-2222 to request a walking escort. In addition, the LiveSafe smartphone app can connect users directly with UD Police or let them keep in contact with friends while walking. More safety tips are available on the UD Police website. In addition, the University's website on gender-based violence includes resources and reporting options. 
Visit this website to receive a UD Crime Alert email whenever an article about a police investigation is posted on UDaily. 
Photo: University of Delaware Police