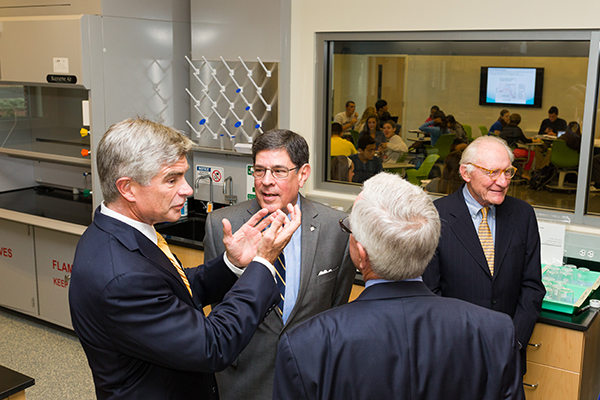 President Harker honored
ISE Lab naming to honor University President Patrick Harker
12:48 p.m., May 19, 2015--On Tuesday, May 12, the University of Delaware Board of Trustees announced the naming of the Patrick T. Harker Interdisciplinary Science and Engineering Laboratory – or Harker Laboratory – in recognition of Harker's tenure as the 26th president of the University of Delaware.
ISE Lab, a hub of teaching and research on campus, stands as a testament to Harker's leadership and vision at UD. The first new laboratory building constructed in nearly 20 years, ISE Lab brings together students and faculty from various disciplines to teach, learn and conduct research collaboratively.
From graduates, faculty
As it neared time for the processional to open the University of Delaware Commencement ceremonies, graduating students and faculty members shared their feelings about what the event means to them.
Doctoral hooding
It was a day of triumph, cheers and collective relief as more than 160 students from 21 nations participated in the University of Delaware's Doctoral Hooding Convocation held Friday morning on The Green.
"This building is an investment in students and faculty, in you, in this incredible community of people, everyone here right now and many more who aren't, who've signed on to change the world with us," Harker said at the grand opening in October 2013.
Throughout his presidency, Harker has been committed to innovative excellence in teaching – a commitment that is exemplified by the problem-based learning classroom space in ISE Lab that seamlessly integrates lecture and experimentation into coursework. The state-of-the-art facility helped elevate UD's reputation as a premier research and graduate university.
"President Harker has challenged us to look to and understand the future of higher education, and to look well beyond our borders in cultivating our success in meeting that future," Board of Trustees Chairman A. Gilchrist Sparks III said.
ISE Lab was made possible by the tireless fundraising efforts during Harker's tenure. Under his leadership, the University raised over $43 million to make ISE Lab possible. To honor Harker's extraordinary leadership at UD, members of the Board of Trustees have made leadership gifts to ISE Lab to further the vision of collaborative and innovative learning.
The Board invites the University community of alumni, friends, students, parents, faculty and staff to join them in making a contribution in support of ISE Lab to honor Harker's legacy. Donors of $10,000 or more will be recognized on signage in the lobby of the Harker Laboratory.