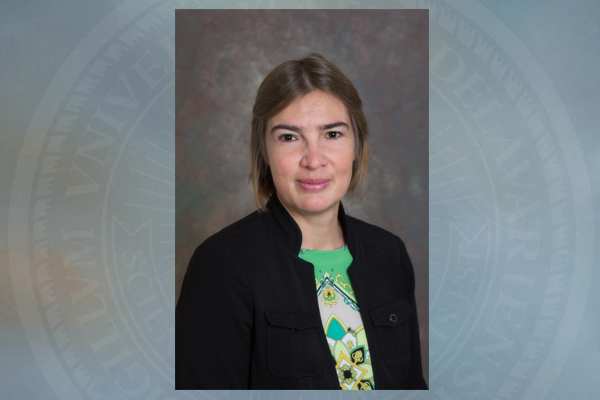 Atomic clock
UD researcher helps to refine precision of atomic clock
2:53 p.m., May 4, 2015--For those whose kitchen clocks almost never agree with their nightstand clocks, for those who grouse about forcing their watches to spring forward or fall back, the work University of Delaware physicist Marianna Safronova and other researchers are doing may be nothing short of mystifying.
Suffice to say they have developed the most accurate clock ever.
Chronic wounds
UD's Millicent Sullivan and Kristi Kiick have received a $1.4 million grant from the National Institutes of Health for research that could provide a new approach to the treatment of chronic wounds.
Prof. Heck's legacy
The American Chemical Society is highlighting the legacy of the late Nobel laureate Richard Heck, the Willis F. Harrington Professor Emeritus of Chemistry at the University of Delaware with a digital tribute on its publications website.
Safronova, professor of physics and astronomy, is among a team of researchers supported by the National Institute of Standards and Technology (NIST), the JILA research institute at the University of Colorado, Boulder, and the Joint Quantum Institute that have been refining the accuracy of the atomic clock, the world's most accurate timekeeper and measure of frequency.
Atomic clocks are used to synchronize many global systems, enable GPS devices, and allow much research in physics and other sciences.
Many variables can affect the accuracy of the clocks and correcting for those variables is an extensive part of these researchers' work.
They're not resetting the hour hand, mind you. They're not adjusting the minute hand or recalibrating the second hand.
They are focused on a fraction of a second – such a tiny slice it is measured in quintillionths – one of 1,000,000,000,000,000,000 slices.
Their work is among many recent research projects featured in Nature Communications, an online feast for those who want to see what physicists and other scientists are up to these days.
The new strontium lattice optical atomic clock developed by JILA's Jun Ye group is so sensitive that it can detect change in gravity if you move it up or down by just 2 centimeters. 
Safronova, who is associated with NIST and the Joint Quantum Institute, contributed to improved calculations that reduce clock errors related to heat from the surrounding environment, called "blackbody radiation." The electric field associated with blackbody radiation alters the atomic frequency, which adds uncertainty to the measurement if not controlled.
Safronova used the quantum theory of atomic structure to calculate the shift, enabling the Ye group to better correct for the error.
In the last 10 years, researchers have made great progress in refining the accuracy of time measurement, enabling development of extremely sensitive quantum-based tools and new atomic clock applications to tests of fundamental physics theories.
As the lead graduate researcher, Travis Nicholson said in a JILA Science article about the work, "We are walking through a portal where time itself is changing in response to changes in the shape of the Earth, and we used to think of time as a constant. We were used to thinking the height of a mountain was a constant, too. All these things turn out to be a little bit fluid if your measurements are sensitive enough."
Though this project adds another extraordinary layer of precision, the timing of this new clock still won't be quite perfect. It could lose up to a second within the next 15 billion years, researchers say.
Please make a note of it.
Article by Beth Miller
Photo by Ambre Alexander Payne