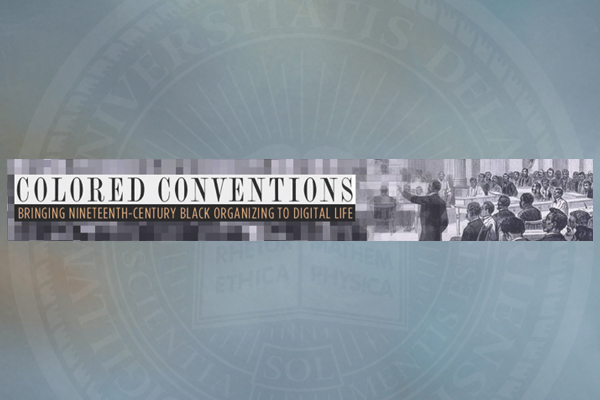 'Transcribe Minutes'
Colored Conventions Project launches crowd-sourcing initiative
3:57 p.m., March 10, 2015--The Colored Conventions Project at the University of Delaware -- directed by P. Gabrielle Foreman, Ned Allen Professor of English and senior research fellow at the University of Delaware Library, and with the library also supporting two graduate assistantships that work on the project -- has announced the launch of a crowdsourcing project, "Transcribe Minutes."
This initiative invites people to visit ColoredConventions.org to transcribe records of the 19th century African American convention movement. The first batch of available documents includes some of the most exciting conventions, featuring well-known leaders such as Frederick Douglass and Henry Highland Garnet from the 1840s with other batches to follow this year.
From graduates, faculty
As it neared time for the processional to open the University of Delaware Commencement ceremonies, graduating students and faculty members shared their feelings about what the event means to them.
Doctoral hooding
It was a day of triumph, cheers and collective relief as more than 160 students from 21 nations participated in the University of Delaware's Doctoral Hooding Convocation held Friday morning on The Green.
The Colored Conventions movement began in 1830 in response to the violence and expulsion faced by blacks in the "free" states. First held at Philadelphia's Bethel AME Church, conventions soon spread across North America. 
"African American leaders and lay people organized for decades to fight against educational inequities, voting and political disenfranchisement as well as job and labor discrimination," says Foreman. "As critical as the anti-slavery movement was, their broader vision continues to speak to this country's ongoing racial challenges."
The Colored Conventions Project is an interdisciplinary digital humanities project that aims to bring the history of the convention movement — and the many leaders and places involved in it — to digital life. 
"'Transcribe Minutes' uses crowd-sourcing technologies to promote online access to these historical records," says Jim Casey, project co-coordinator and a doctoral candidate in UD's English department. "These technologies open up new possibilities for our research and teaching beyond college classrooms."
ColoredConventions.org houses the first digital collection of these minutes, many of which were previously out of print and hard to find. It features more than 65 national and state minutes from 1830 to well beyond the Civil War -- with more being uncovered and added regularly. 
"Attention to African American experience in the 19th century is usually focused on the efforts of Northern white abolitionists to end the 'peculiar institution' of slavery," says Carol A. Rudisell, librarian, Reference and Instructional Services Department, University of Delaware Library. "Having accurate, searchable texts should significantly change our understanding of this important period." 
Transcribing and making these records more usable requires collective efforts. Volunteers will help give new life to a vital chapter of American history.
"The more people involved, the more we can preserve and call attention to one of the major ignored chapters of American history," says Curtis Small, assistant librarian, Special Collections, University of Delaware Library and member of Colored Conventions Project. "The project is an exciting collaboration between faculty, students and librarians," he continues.
"The Colored Convention Project is important for its method as well as its results," says John Ernest, chairperson of the English department. "It's an inspiring and instructive model of collaborative research. This is a historical recovery project that will teach us volumes about African American communities of the past while strengthening numerous and diverse communities in the present."
The Colored Conventions web site and the "Transcribe Minutes" project are the products of an ongoing partnership between the Colored Conventions Project and the University of Delaware Library.