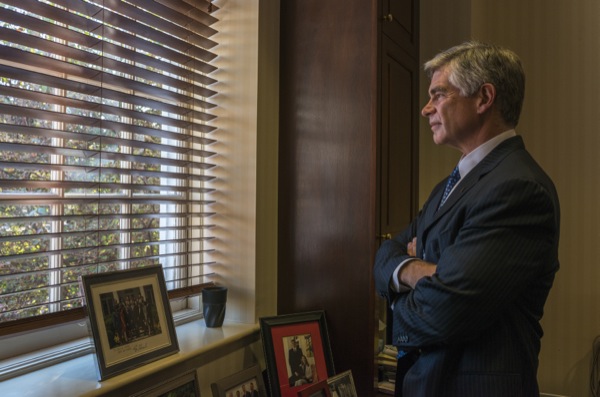 New endeavor
Patrick Harker to leave UD to become president, CEO of Philadelphia Fed
12:23 p.m., March 2, 2015--University of Delaware President Patrick T. Harker announced today that he will step down as president to become president and chief executive officer of the Federal Reserve Bank of Philadelphia. His new appointment is effective July 1.
In a message to the UD community, Harker said, "It has been an honor and a privilege to serve as president of this University. Working with our motivated students, illustrious faculty and dedicated staff has been inspiring, invigorating and unforgettable. 
From graduates, faculty
As it neared time for the processional to open the University of Delaware Commencement ceremonies, graduating students and faculty members shared their feelings about what the event means to them.
Doctoral hooding
It was a day of triumph, cheers and collective relief as more than 160 students from 21 nations participated in the University of Delaware's Doctoral Hooding Convocation held Friday morning on The Green.
"Together we have accomplished much over the past eight years, facing challenges, crafting solutions, maximizing opportunities and ensuring the future of this noble institution," he wrote.
Gil Sparks, chairman of the University's Board of Trustees, said, "Pat Harker's strong and thoughtful leadership has served the University of Delaware well through a period of considerable change in American higher education. We thank him for all he has done for the University and for the State, and I know my fellow trustees join me in wishing him well on his new endeavor."
Harker will continue to actively serve as UD's president through June 30, and plans for the search to find his successor will be announced in due course, Sparks said.
At the Philadelphia Fed 
In his new role, Harker will serve as the 11th president and chief executive officer of the Philadelphia Fed, succeeding Charles I. Plosser who retired March 1.
Harker has served as a non-banking Class B director of the Philadelphia Fed for the past three years. As president, he will participate on the Federal Open Market Committee in the formulation of U.S. monetary policy, and will oversee 900 employees at the Philadelphia Fed.
In announcing the appointment, James E. Nevels, chairman of the Philadelphia Fed's board of directors, said, "We were fortunate to have an exceptional and diverse slate of candidates and are delighted that Pat Harker emerged as the best person to serve as the next president and chief executive officer of the Federal Reserve Bank of Philadelphia. His deep roots in the region, his distinguished career in academia, his drive for innovation, and his passion to make our region an economic engine for the future truly impressed our board."
The Federal Reserve Bank of Philadelphia helps formulate and implement monetary policy, supervises banks and bank and savings and loan holding companies, and provides financial services to depository institutions and the federal government. It is one of the 12 regional Reserve Banks that, together with the Board of Governors in Washington, D.C., make up the Federal Reserve System. The Philadelphia Federal Reserve Bank serves eastern Pennsylvania, southern New Jersey and Delaware.
Patrick T. Harker
Harker became the 26th president of the University of Delaware on July 1, 2007. He also serves as professor of business administration and professor of civil and environmental engineering. 
His tenure as president has been period of growth and accomplishment for the University, including:
•implementation of the Path to Prominence strategic plan, which articulated institution-wide principles and goals, predicated on excellence in undergraduate, graduate and professional education, environmental leadership, global engagement, diversity and service to the community;
• establishment of numerous research centers, as well as the Office of Economic Innovation and Partnerships to stimulate invention and entrepreneurship and to translate UD research into economy-driving technologies;
• partnership with the region's leading health care providers to form the Delaware Health Sciences Alliance; 
• acquisition of the 272-acre former Chrysler assembly plant; and development of that property as the Science, Technology and Advanced Research (STAR) Campus to be a center of innovation, focused on leading research in areas such as health science, cybersecurity and alternative energy;
• major campus construction, including the 194,000-square-foot Interdisciplinary Science and Engineering Laboratory (ISE Lab), a hub for teaching and research on campus; the Health Sciences Complex on the STAR Campus; Louis L. Redding and Eliphalet Gilbert Residence Halls; a new University of Delaware Bookstore; and upgrades to campus athletics facilities, including an addition to the Bob Carpenter Center and a major renovation of the Carpenter Sports Building; and
• recruitment of the largest and most diverse entering undergraduate class in the University's history in fall 2014.
Before coming to Delaware, Harker was dean of the Wharton School and Reliance Professor of Management and Private Enterprise at the University of Pennsylvania. 
He received bachelor's and master's degrees in civil engineering, a master's degree in economics and a doctorate in civil and urban engineering, all from the University of Pennsylvania.
Photo by Kathy F. Atkinson