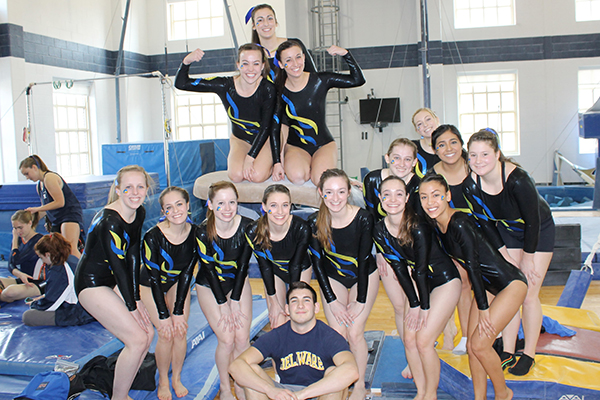 Gymnastics added
Campus Recreation announces addition of gymnastics as club sport
8:20 a.m., March 25, 2015--University of Delaware Campus Recreation has announced that gymnastics is now a club sport team.
The team is registered with National Association of Intercollegiate Gymnastics Clubs (NAIGC) and will compete with other colleges in the northeast as well as teams from the entire United States at nationals. The team practices off campus at KMC Gymnastics in Kennett Square, Pennsylvania.
Rower honored
University of Delaware junior Claire Brown has been named second team Collegiate Rowing Coaches Association All-Region.
Unsung Hero
The One Love Foundation has announced that University of Delaware men's lacrosse standout Elijah Conte has been selected as a winner of the 2016 YRL Unsung Hero Award.
"The team atmosphere is very laid back and family like, but we are also very focused and driven for success," said the club president, Jenna DiStefano. "The team consists of about 60 members, however at any given practice, there is between 15-30 people." 
"At this point, our team's strengths are on floor and vault," DiStefano said. "We have a hardworking bars lineup who are adding difficulty to their routines in order to boost scores, as well."
The team traveled to Penn State on March 21 to compete in its first meet, the Nittany Invitational. The men's team placed third in all around and fifth on the floor. The women's team did not place but gained valuable feedback and experience that will undoubtedly help the competitors in the future.
The team will compete at nationals on April 8-11 at the Philadelphia Convention Center. The UD team is scheduled to compete on Friday, April 10, at 8:40 a.m. for preliminaries and all day Saturday, April 11. Spectators are welcome to come out and see top talent from 186 teams from across the country.
For more information about the UD team, check out the team page and follow it on Facebook, Twitter  and Instagram.
For information on all club sport teams, visit the Campus Recreation website.