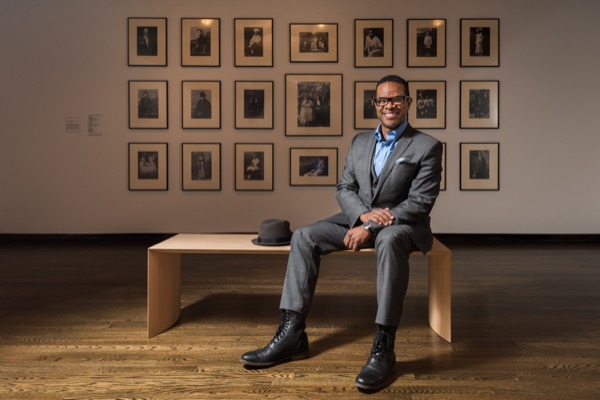 Family photo albums
Filmmaker Harris describes his work exploring family, identity
2:01 p.m., March 3, 2015--Award-winning filmmaker Thomas Allen Harris told an audience at the University of Delaware on March 2 that every time he has made a film he's found "hidden treasures" in the form of old photos and home movies from his family that have been incorporated into his work.
"I was always wondering, when I was growing up, what was in other people's family albums," he said. Now, his new project lets him explore that question, while also providing anyone who is interested with the opportunity to do something creative with his or her own family photos. 
'Resilience Engineering'
The University of Delaware's Nii Attoh-Okine recently published a new book with Cambridge University Press, "Resilience Engineering: Models and Analysis."
Reviresco June run
UD ROTC cadets will run from New York City to Miami this month to raise awareness about veterans' affairs.
Harris, who delivered UD's 2015 Paul R. Jones Lecture, has developed the Digital Diaspora Family Reunion Roadshow, a project that facilitates the collection and digitization of family photos. 
With a particular focus on African American families, the project is open — via a website, Instagram or a series of public presentations at which Harris serves as an emcee — to anyone interested in sharing family stories and images.
"We want it to be inclusive, not exclusive," Harris said of the project, whose theme is "one world, one family."
The Digital Diaspora began in 2009 and is continuing to grow. So far, Harris said, more than 14,000 photos have been gathered in visits to 27 cities, and about 1,200 people have been interviewed about their family photos for inclusion in the project.
"People share their stories, and because they're talking about their families, they talk … with their hearts," Harris said.
Also during his presentation at UD, he gave the audience an overview of his history as a filmmaker, showing brief excerpts from many of his works. He began with a clip from a 1992 performance piece he created and filmed, titled black body—a work in progress, and continuing with the 1995 VINTAGE, Families of Value that looked at three groups of gay siblings and that Harris, in a voiceover, called "a family album created over the course of five years." That film, he said, was about "making the invisible visible" in a kind of audiovisual collage.
Other films he discussed in the talk included the 2001 E Minha Cara/That's My Face, filmed in Brazil, the U.S. and Tanzania and describing his mother's journey to Africa, and Twelve Disciples of Nelson Mandela, a 2005 documentary about his stepfather, who had left South Africa with 11 other men to spread the anti-apartheid movement worldwide.
Harris also showed excerpts from his 2014 documentary, Through a Lens Darkly: Black Photographers and the Emergence of a People, which explores the work of African American photographers and their role in projecting and shaping the identity, aspirations and social emergence of African Americans from slavery to the present.
In the film, Harris profiles 26 photographers, recording them interacting with their photos. "I wanted to see artists actually handling their work while they talked," he said.
Harris, who grew up in the Bronx, New York, and in Tanzania, is the founder and president of Chimpanzee Productions. He has created documentary films, installations and experimental videos and for several years he produced for public television, earning two Emmy nominations.
The Paul R. Jones Lecture is named in honor of the late benefactor who donated a large portion of his collection of African American art to the University.
More about 'Through a Lens Darkly' and University Museums
Harris' new film about African American photographers profiles many of those whose work is part of UD's University Museums collection, including P.H. Polk, Clarissa Sligh, Carrie Mae Weems and James Van Der Zee. His lecture coincided with an exhibition that is open in Mechanical Hall through May 17, titled "Forget Me Not: Photography Between Poetry and Politics." 
Before delivering his talk, Harris toured the exhibit. He called it "inspiring" and said that he felt "a very deep connection" between the photographs on view and his film.
Through a Lens Darkly premiered at the Sundance Film Festival in 2014 and has aired on PBS. 
On Saturday, March 7, UD will host a free, public screening of the film from 2-4 p.m. in Room 006, Kirkbride Lecture Hall.
Article by Ann Manser
Photo by Evan Krape