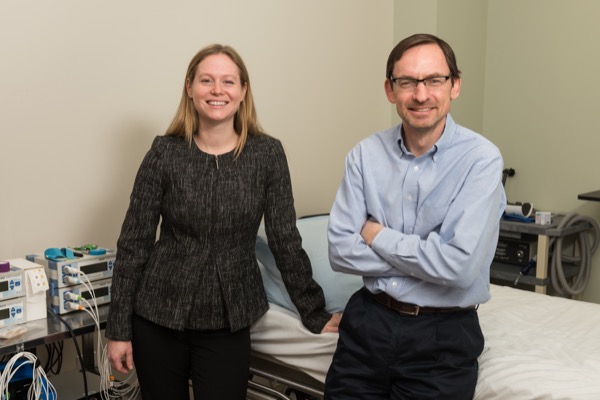 Exercise and ANS
Special journal issue devoted to exercise, nervous system, chronic disease
11:21 a.m., March 3, 2015--Evidence is mounting for the connection between a sedentary lifestyle and chronic diseases like diabetes, cancer and cardiovascular disease. 
The March issue of Autonomic Neuroscience adds to that evidence, with 15 review papers on exercise and the autonomic nervous system (ANS). Also known as the involuntary nervous system and the visceral nervous system, the ANS regulates functions such as heart rate, digestion and respiration. 
Chronic wounds
UD's Millicent Sullivan and Kristi Kiick have received a $1.4 million grant from the National Institutes of Health for research that could provide a new approach to the treatment of chronic wounds.
Prof. Heck's legacy
The American Chemical Society is highlighting the legacy of the late Nobel laureate Richard Heck, the Willis F. Harrington Professor Emeritus of Chemistry at the University of Delaware with a digital tribute on its publications website.
The special issue is edited by William Farquhar, professor in the Department of Kinesiology and Applied Physiology at the University of Delaware. 
"There's an important message in the fact that the entire issue is devoted to exercise," Farquhar says. "Reviewing the autonomic responses to acute and chronic exercise highlights our shared evolutionary-adapted ability to engage in physical activity — an ability that was clearly important for our nomadic hunter-gatherer ancestors."
"Many of the chronic diseases that ravage Western societies today are in part related to lifestyle factors such as physical inactivity," he adds. "Exercise plays a role both in preventing chronic disease and in improving quality of life for people with progressive neurological diseases like multiple sclerosis."
The special issue is aimed at providing clinicians and scientists with recent summarized information from experts in the field. The articles address acute and chronic exercise in both health and disease and cover basic as well as clinical aspects of these topics. 
Several articles review aspects of "central command," a key neural mechanism underlying the immediate response to exercise. Farquhar explains that central command is a feedforward mechanism that activates cardiovascular centers in the brain to alter autonomic outflow, which contributes to increases in heart rate and respiration at the onset of exercise.
"While sophisticated animal and clever human studies have increased our understanding of central command, key questions remain regarding the precise cortical sites or networks involved in generating this signal," he says.
One of the articles, co-authored by Farquhar, Jody Greaney and Megan Wenner, addresses blood pressure control during exercise in those with hypertension. Greaney is a postdoctoral fellow at Penn State who completed her doctorate in biological sciences at UD in 2013 under Farquhar's advisement, and Wenner is an assistant professor of kinesiology and applied physiology at UD.
"It's especially important for those with hypertension to exercise regularly, as recommended by organizations such as the American College of Sports Medicine and the American Heart Association," Wenner says.
Greaney points out, however, that in people who have hypertension but are not taking medication, certain types of exercises may sometimes be associated with an exaggerated rise in blood pressure.
"Large increases in blood pressure may increase the risk of a heart attack or stroke, so it's critical for individuals with hypertension to have their blood pressure regularly checked and treated to minimize risk," she says. 
Continued work in the area of autonomic exercise physiology will allow not only a more detailed mechanistic understanding of acute exercise responses but also a broader understanding of the benefits of regular physical activity as it relates to the autonomic nervous system in health and disease.
"The nitty-gritty laboratory work continues to be translated to the common public health message of more physical activity, and a dedicated exercise issue raises the profile of this important work," Farquhar says. 
About the journal
Autonomic Neuroscience is the official publication of the International Society for Autonomic Neuroscience. The journal provides broad coverage of all aspects of the autonomic nervous system in man and animals. The main areas of interest include the innervation of blood vessels and viscera, autonomic ganglia, efferent and afferent autonomic pathways, and autonomic nuclei and pathways in the central nervous system. 
The special issue, "Exercise and the Autonomic Nervous System," is Volume 188, March 2015.
Article by Diane Kukich
Photo by Evan Krape