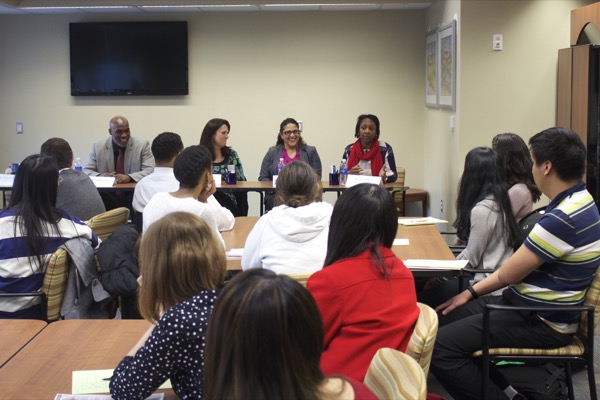 Supporting education, diversity
CEHD's ASPIRE student group welcomes alumni for panel discussion
1:07 p.m., March 17, 2015--The University of Delaware ASPIRE program held a panel discussion featuring alumni on Wednesday, March 11, with the Brandywine School District's Dorrell Green telling audience members that "it's not always easy, but it is enjoyable, being able to change and impact lives."
ASPIRE, a student organization housed in the University's College of Education and Human Development, is dedicated to promoting the recruitment, retention and successful graduation of underrepresented individuals interested in teaching and human development.
From graduates, faculty
As it neared time for the processional to open the University of Delaware Commencement ceremonies, graduating students and faculty members shared their feelings about what the event means to them.
Doctoral hooding
It was a day of triumph, cheers and collective relief as more than 160 students from 21 nations participated in the University of Delaware's Doctoral Hooding Convocation held Friday morning on The Green.
Members of ASPIRE were invited to a networking night where they had the opportunity to speak with five alumni, including Green, regarding the challenges they may face during the first few years of teaching. The panelists, from the Brandywine and Colonial school districts in northern Delaware, hold positions that range from novice teacher to superintendent.
Green, a 1998 elementary teacher education graduate who received a master's degree in 2004, was the solo captain of UD's football team his senior year and is now assistant superintendent of school operations in the Brandywine School District. He spoke of the accountability ASPIRE provided for him, and how education became his career choice.
"I am thankful for my time at UD and more importantly what ASPIRE did for me as a student-athlete," said Green. "I didn't always see myself as a teacher. I came into this profession because of others seeing something inside of me. Everyday is a struggle but it is also a blessing."
Ige Purnell, a 1997 elementary teacher education graduate who received a doctor of education degree in 2009 and serves as principal of McCullough Middle School in New Castle, always knew she wanted to be a teacher but never thought about becoming an administrator. 
The majority of her career was spent as a special education teacher. After moving to Washington, D.C., and noticing the differences in the education system, she decided to return to UD to pursue her doctor of education degree in educational leadership. 
"I wanted to stay in a high needs population and I decided I wanted to give back to the community that I came from," said Purnell.
Not only is Purnell a two-time UD graduate, but she also is an adjunct professor who teaches a course in classroom management.
Rigor. Relevance. Relations.
As many teachers know, no two days are ever quite the same, but all the panelists agreed that preparation is key to success. They suggested collaborating with other teachers, asking for a mentor and remembering the three R's — rigor, relevance and relations.
Cora Scott, director of PK-12 educational services in the Brandywine School District, encouraged students to request placements in a variety of school environments to understand the diverse needs of children. 
When asked how they managed to survive the challenges of an ever-changing landscape in education, the panelists emphasized the importance of passion and enthusiasm in the classroom. 
"Ask yourself, is it about you or is it about the kids? You need to do this for the kids," said Scott. 
Gemelle John, a senior Spanish education major and vice president of ASPIRE, admitted the panelists' advice would be helpful as she begins her position in the Brandywine School District through Teach For America.
"Hearing the perspective from a variety of educators — a teacher, principal, director and superintendent — helped to vary the conversation and provide valuable insights," said John.  
Freshmen early childhood education majors Ayanna Bundy and Lauren Harvey took feverish notes, saying the advice will stay with them as they grow into their major.
"Listening to their personal experiences along with some struggles they went through was enlightening," said Harvey.
"ASPIRE is designed to provide support — academically, professionally and socially — to students with diverse backgrounds who are interested in education," said Kristine Ritz-Coll, senior assistant dean of student services and ASPIRE adviser. 
"This event was just one of the ways we bring together students, alumni and other professionals. We invite any student who is interested in education or human services to attend an ASPIRE meeting to learn more about the group and the activities and support it can provide."
To learn more about the services ASPIRE offers, visit the website. 
Article and photos by Elizabeth Adams