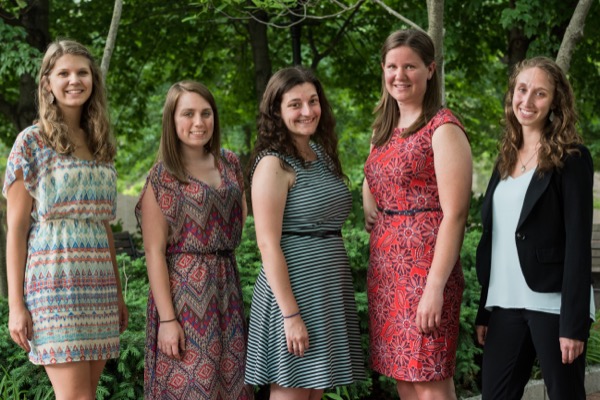 Top student teachers
Center for Secondary Teacher Education honors 12 outstanding students
2:06 p.m., June 1, 2015--Twelve students in a variety of disciplines have been honored by the University of Delaware's Center for Secondary Teacher Education as this year's outstanding student teachers.
The center awards its Outstanding Student Teacher Certificate to recognize those who have demonstrated exceptional skill and creativity in developing rapport with students, planning and executing lessons, and incorporating suggestions and new ideas into teaching practice.
National Medal of Science
President Barack Obama recently presented the National Medal of Science to University of Delaware alumnus Rakesh Jain.
Warren Award
Rosalind Johnson, assistant dean for student success in the NUCLEUS Program in UD's College of Arts and Sciences, was presented the John Warren Excellence in Leadership and Service Award during a May 26 ceremony.
Following are the 2015 honorees and their student-teaching locations, which are schools in Delaware unless otherwise noted:
• In math education, Katherine Slyman, Rising Sun (Maryland) High School; Rebecca Guarino, Dickinson High School; and Craig Chatterton, Cape Henlopen High School.
• In music education, Lindsay Satterfield, Brandywine Springs School and Bel Air (Maryland) High School.
• In foreign language education, Abigail Conklin, Unionville (Pennsylvania) High School.
• In agricultural education, Alyssa McCormick, Lake Forest High School; and Caitlin Walton, Smyrna High School.
• In social studies education, Shana Mattes, Brandywine High School; and Robert Weber, Sussex Central High School.
• In English education, Claire Davanzo, Elkton (Maryland) High School; Kaitlin Weaver, Caesar Rodney High School; and Hannah Winand, Concord High School.
The award was established "to identify those student teachers among our programs who have inspired and engaged their students with the theories, content and big ideas of their discipline," according to the Center for Secondary Teacher Education, which is part of the College of Arts and Sciences.
"The outstanding student teachers are among the best that we have ever worked with," center officials said. "They have exhibited the highest standards of professionalism and have used self-reflection to improve their impact on student learning.
"They have used their knowledge from their undergraduate classes and applied that knowledge to develop lessons, curriculum and assessments that reflect creative learning strategies and an understanding of what it means to teach students from diverse backgrounds." 
Photo by Evan Krape