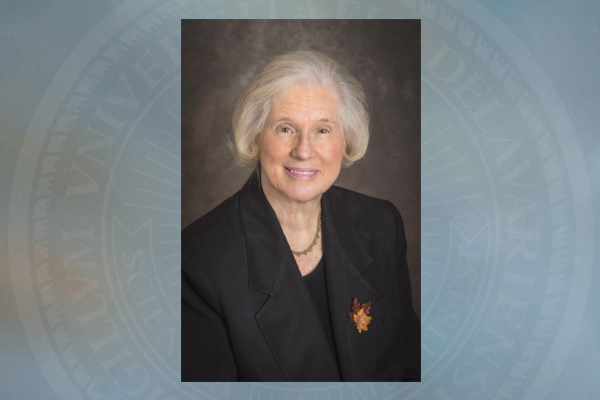 Library leadership
Vice Provost Susan Brynteson announces retirement
12 p.m., June 25, 2015--Susan Brynteson, who has headed University of Delaware Library for more than 35 years, has announced her plans to step down as vice provost and May Morris University Librarian, effective Sept. 1, UD Provost Domenico Grasso announced today.
Upon her retirement, she will become May Morris Librarian Emerita.
'Resilience Engineering'
The University of Delaware's Nii Attoh-Okine recently published a new book with Cambridge University Press, "Resilience Engineering: Models and Analysis."
Reviresco June run
UD ROTC cadets will run from New York City to Miami this month to raise awareness about veterans' affairs.
"Susan Brynteson has been critical in transforming the University of Delaware Library from a traditional 20th century research university library to a dynamic 21st century institutional resource," Grasso said. "On behalf of the University of Delaware, I express appreciation for Susan's service to the University.
"Today the University of Delaware Library is a national innovator in acquiring and making available a broad range of electronic resources and databases, and it holds the honor of being the first research library in the nation to implement OCLC Worldshare Management Services, a cloud-based system for discovery, metadata, acquisitions and circulation," he observed.
Brynteson oversaw the development of the University of Delaware Library collections, which parallel UD academic programs and are broadly based and comprehensive. With over 2.8 million volumes, more than 70,000 electronic journals, over 420,000 ebooks and over 370 databases in all disciplines, and with the digitization of many collections, as well as the growth of world-class special collections and manuscripts in a wide variety of fields from the 15th to the 21st century, the Morris Library is a destination for scholars worldwide.
During Brynteson's tenure, the University of Delaware Library:
• First and foremost, became a member of the by-invitation-only prestigious Association of Research Libraries in 1983 upon which the Delaware General Assembly passed a congratulatory resolution.
• Completed a major addition to the Hugh M. Morris Library in 1986 that doubled the space of the original building constructed in 1963. The Library is named in honor of Judge Hugh Martin Morris (1878-1966) eminent jurist and long-time trustee and president of the Board of Trustees.
• Converted from a card catalog system to the online DELCAT catalog, now DELCAT Discovery, an online, cloud-based service that provides information about and access to the Library's physical and electronic holdings.
• Celebrated the addition of the 2 millionth volume, a Shakespeare Second Folio, to the University of Delaware Library in 1991.
• Became one of the first research libraries in the nation to discontinue receipt of print journals and to provide electronic access. More than 90 percent of University of Delaware journals are available electronically.
• Developed a statewide K-12 partnership called UDLib/SEARCH, which has provided online periodical and encyclopedia databases and teacher training to all public K-12 schools in Delaware since 1997.
• Opened the 15,000-square-foot $1.5 million Student Multimedia Design Center in 2007 with 80 workstations, 6 studios and two classrooms to meet the needs of increasing numbers of classes that involve creation of multimedia projects and presentations as part of their course requirements and which now provides Digital Literacy programs reaching thousands of students every semester.
• Continually upgraded technology for University students, faculty and staff providing more than 250 state-of-the-art workstations, wireless throughout, loan of laptops and multimedia technology, high speed printing, and more.
• Became one of the first institutions to implement WorldCat Local, OCLC's webscale discovery and delivery service, in 2008 and became the first academic research library to implement OCLC WorldShare Management Services in 2014.
• Established UDSpace, in which the University of Delaware was an early adopter of DSpace open source software to create an institutional repository for University research.
• Acquired the senatorial papers of Vice President Joseph R. Biden, as well as the papers of Sen. Edward E. (Ted) Kaufman, Sen. Thomas R. Carper; Rep. Michael N. Castle; Sen. John Williams and Delaware Sen. Thurman G. Adams, Jr.
• Became the home of the University of Delaware Press, for which she became the reporting line in 2003, and which physically moved to renovated space in the Morris Library at the direction of the provost.
• Established a strong and rapidly growing Information Literacy program in which librarians reach more than 12,000 University of Delaware students annually.
• Re-envisioned and renovated multiple large spaces in the Morris Library to service current needs of University students, faculty and staff.
• Established a Scholarly Communication program, which successfully worked with the Faculty Senate to pass a University Open Access Policy in 2015.
• Arranged for the important, world-class Mark Samuels Lasner Collection to be placed on loan in the University of Delaware Library.
• Expanded the membership and programs in the University of Delaware Library Associates, a friends group that works to expand and enrich the Library's research collections.
"It has been such a privilege to lead the dedicated staff at the University of Delaware Library, as well as to work with faculty, staff, administrators and students across the campus, in support of the Library's noble purpose" Brynteson said. "Together, we have made the University of Delaware Library a superb scholarly and information resource for scholars on the campus, in the state and around the world. I will always be grateful for the tremendous support and abiding friendships that have sustained me through the years."
Brynteson began her role as director of University libraries in 1980, after serving in several senior library administrative positions at the Indiana University Libraries in Bloomington, the University of Tennessee, Knoxville and the University of Massachusetts, Amherst. She received her bachelor's and graduate library degree from the University of Wisconsin, Madison, from which, in May, she received the 2015 Distinguished Alumna Award from the UW School of Library and Information Studies.
In 2001, Brynteson was named May Morris University Librarian, and was given the additional title of vice provost in 2008.
Brynteson has served as president of the Association for Library Collections and Technical Services (ALCTS) and chaired both the American Library Association (ALA) Publishing Committee and the ALA Legislative Committee. She was a member of the ALA Intellectual Freedom Committee and served for six years on the ALA Council, the governing body of the American Library Association. She also has been active in various capacities in the Association of Research Libraries.
An interim vice provost for libraries will be named in the near future.