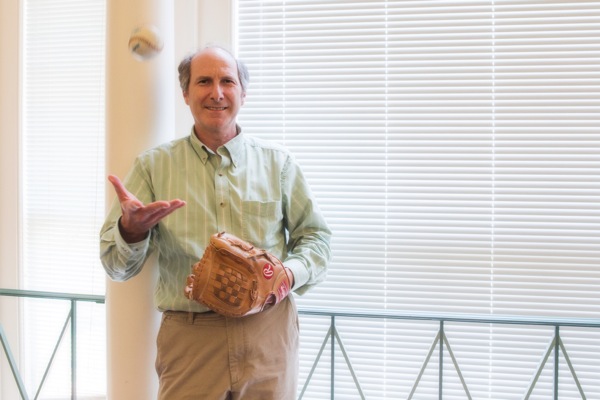 Real-world math
Workshop demonstrates ways teachers can motivate students
3:03 p.m., July 25, 2014--A workshop held this week at the University of Delaware offered participating high school math teachers some suggested responses when their students ask, "But what am I ever going to use this for?"
The Toyota-UD Applied Math Initiative, one of a series of summer workshops being offered nationwide with funding from the Toyota Foundation, was designed to highlight ways in which high school math is used in various professions and in college curricula. A variety of experts spoke to the teachers, detailing examples of careers that require mathematical and critical-thinking skills.
'Resilience Engineering'
The University of Delaware's Nii Attoh-Okine recently published a new book with Cambridge University Press, "Resilience Engineering: Models and Analysis."
Reviresco June run
UD ROTC cadets will run from New York City to Miami this month to raise awareness about veterans' affairs.
Some of the professional areas discussed during the workshop sessions were manufacturing medical devices, supporting U.S. troops, working in finance, solving a variety of problems in industry, evaluating outcomes in medicine and working in such fields as codes, satellites and counterterrorism.
And then there's baseball.
"I do a lot of recruiting of students," said Bruce Bukiet, professor of mathematics and an associate dean at New Jersey Institute of Technology, who spoke Wednesday about the use of mathematical modeling in America's pastime. "They want to know the applications of math — 'What can you do with this?' — and baseball can be a hook to get them interested."
Baseball, he told the workshop audience, is a natural subject for mathematical analysis, from the basic use of fractions and decimals to calculate statistics such as batting averages to more sophisticated applications of probability theory to predict a team's most successful batting order or the likelihood of winning a game against a particular opponent.
Bukiet shared a mathematical model he developed to analyze teams, had the teachers play a simulated game of baseball using dice to determine the outcome of at-bats and offered some problems they could discuss with their students. 
Workshop participant Soham Gandhi, who graduated from UD in 2013 and now teaches high school math, said he expects to use information from the program in his own classroom.
"It's been great to hear from these speakers who are all passionate about math and about teaching," he said. "And it will help me put some of these things into focus for my students. They want to know about careers and college courses and uses for math that they can actually relate to."
John Pelesko, chair of UD's Department of Mathematical Sciences, praised the workshop as "a wonderful partnership" between the department, the School of Education and the K-12 community.
"The ideas to which teachers were exposed, as well as the lesson plans they developed to take back to their classrooms, will help enrich the teaching and learning of mathematics in each of their schools," Pelesko said.
Sebastian Cioaba, UD assistant professor of mathematical sciences, who organized the workshop, said participants were able to hear the most up-to-date information about how math is used today.
"We were fortunate to have great speakers from industry that described their experiences using mathematics in modeling many important problems arising in various areas of science," he said. "I am grateful to all the speakers for making this workshop a great experience for the high school teachers."
About the initiative
The Applied Math Initiative was started by the Rochester Institute of Technology's David Ross to give teachers exposure to the use of mathematics in the workplace. It is now held at several universities in the U.S. 
The UD event was supported by the Toyota Foundation and the Delaware Department of Education. UD speakers included faculty from the Department of Mathematical Sciences, the Interdisciplinary Science and Engineering Laboratory, and the departments of electrical and computer engineering and of mechanical engineering.
Cioaba also thanked Ross for help in organizing the Delaware event and Carol Vukelich, deputy dean of the College of Education and Human Development, and Jamila Riser, director of the Delaware Mathematics Coalition, for their help in recruiting participants.
Article by Ann Manser
Photo by Ambre Alexander Payne