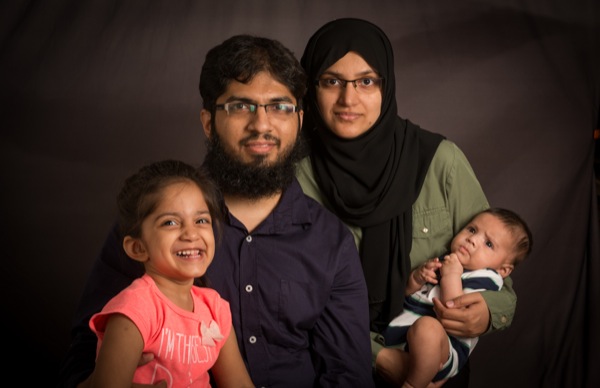 Double Del doctors
Multi-tasking parents complete physics doctorates on consecutive days
10:29 a.m., July 31, 2014--Adeel Ajaib thinks that he and his wife, Fariha Nasir, will probably look back on 2014 sometime in the future — when their lives are less hectic — and ask each other in amazement, "How did we do that?"
That's exactly what many of their fellow graduate students and faculty members in the University of Delaware's Department of Physics and Astronomy have undoubtedly been wondering for some time about the young couple. 
'Resilience Engineering'
The University of Delaware's Nii Attoh-Okine recently published a new book with Cambridge University Press, "Resilience Engineering: Models and Analysis."
Reviresco June run
UD ROTC cadets will run from New York City to Miami this month to raise awareness about veterans' affairs.
After studying and conducting research in particle physics with their graduate adviser, Qaisar Shafi, Bartol Research Institute Professor of Physics, Ajaib and Nasir successfully defended their doctoral dissertations on consecutive days in July. Adding to the stress of preparing for that milestone was the birth of their second child just two months ago.
"The last couple of months before our defense were totally disorganized in our house," Ajaib said. "All we did was take care of the children and talk about physics. We had [whiteboards] that we were always writing on."
"There wasn't a lot of sleep," Nasir added. "And I don't think I sat down and ate a meal for three months."
But it has all been worth it, both said. Their children, 3-year-old Raima Adeel and her new baby brother, Umar Adeel, are healthy, and that's "the only really important thing," Ajaib said. Both dissertation defenses were successful, and Ajaib has been offered a faculty position in Pennsylvania, where Nasir will also pursue career opportunities.
The couple met as undergraduates in their native Pakistan, and Ajaib began graduate studies at UD in 2008. The next year they married, and Nasir also enrolled at UD. Both say that because their research was largely computational, as opposed to laboratory-based experimentation, much of it could be done at home, giving them some flexibility in child care.
Nasir was a teaching assistant and so spent more time on campus than her husband, a research assistant, did. "So he was home with our daughter the most," she said. "When she first started to talk, she called him 'Mama.'"
With their extended family half a world away, the couple relied on a part-time baby sitter and on the understanding of their colleagues. Shafi, they said, was especially supportive in encouraging them to work at home whenever possible.
Since completing their doctoral work, life hasn't slowed down a lot. This week, the family is packing and preparing to move. Nasir smiled: "That's another challenge," she said.
Article by Ann Manser
Photo by Kathy F. Atkinson