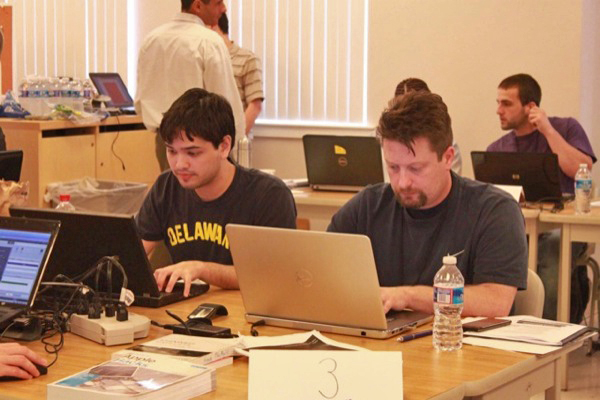 July 21-25: Cyber camp
University to host US Cyber Challenge summer camp, competition
8:38 a.m., July 17, 2014--The University of Delaware will be the host site for the 2014 U.S. Cyber Challenge (USCC) summer camp program to be held from July 21-25.
The state's cyber security boot camp event is organized by USCC in conjunction with UD, Delaware State University, Wilmington University, Delaware Technical Community College and the Delaware Department of Technology and Information (DTI).
From graduates, faculty
As it neared time for the processional to open the University of Delaware Commencement ceremonies, graduating students and faculty members shared their feelings about what the event means to them.
Doctoral hooding
It was a day of triumph, cheers and collective relief as more than 160 students from 21 nations participated in the University of Delaware's Doctoral Hooding Convocation held Friday morning on The Green.
This will be the fifth consecutive year that the state will hold the summer camp, which includes four days of intensive instruction by SANS Institute computer security instructors, a career fair, and a cyber attack and defense competition with an awards ceremony to honor the winners.
"Employers across the nation are facing extreme shortages of cybersecurity experts with strong hands-on technical skills. The U.S. Cyber Challenge initiative is a great way to introduce our students to the many facets of cybersecurity and cultivate the cybersecurity workforce of the near future," said Elayne Starkey, chief security officer for DTI. "This intensive camp helps us identify rising talent in the cybersecurity field, provide expert training to further develop their skill sets, and engage them with potential employers."
Curriculum at the Delaware camp will include in-depth workshops on a range of topics including penetration testing, packet crafting and forensics, all taught by college faculty, SANS Institute senior instructors, and other cybersecurity experts.  
The week will be capped off by a virtual "capture the flag" competition and awards ceremony on Friday, July 25. The competition will begin at 8:30 a.m. and the awards ceremony will begin at 1:30 p.m. at UD's Gore Hall on The Green. 
The awards ceremony will include remarks by Gov. Jack Markell; Jim Sills, state chief information officer; Mark Murphy, state secretary of education; John Condon, founding partner of the Ambit Group; and Karen S. Evans, USCC national director.
The camp is supported in part through sponsorships by the International Information Systems Security Certification Consortium (ISC2) Foundation, SE Solutions, iSight Partners, Threat Space, NIC, CyberAces, the Association for Federal Information Resources Management (AFFIRM), Avue Technologies, SANS Institute, Lockheed Martin, Microsoft, Department of Homeland Security, the Federal CIO Council, Cyber Ninjas, Kearney and Co., Deep Water Point, the Coleman Group, VMD, Valente and Associations, AMBIT, REI Systems and Accenture. 
In addition to UD, which in March announced that Starnes E. Walker will lead its Cybersecurity Initiative, local sponsors include Wilmington University, Delaware State University and PJM.
More than 60 students will be attending the Delaware camp. Attendees to the invitation-only camps were selected based in part on their scores from Cyber Quests, an online competition offered through USCC in April that drew more than 1,600 participants from over 700 schools nationwide. 
The 2014 Cyber Summer Camp Series features two national weeklong camps and two statewide camps. The camps are part of several initiatives underway through USCC, a national campaign focused on identifying and developing cybersecurity talent to meet the country's critical cybersecurity workforce needs.
Photo courtesy of Wilmington University/Dana Hufe, photographer