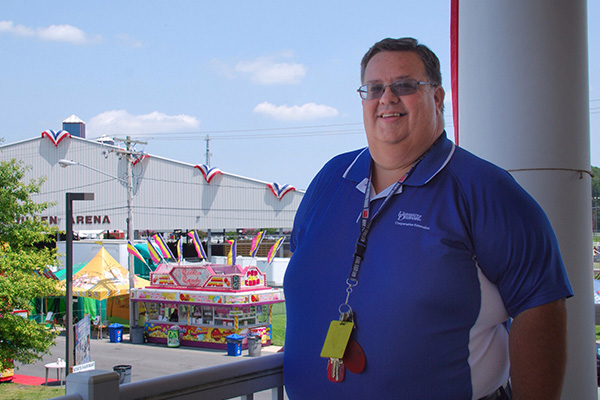 Mr. State Fair
4-H agent Doug Crouse serves 25th year as Delaware State Fair treasurer
9:20 a.m., July 24, 2014--Ask Doug Crouse if Christmas in July is a real event and he'll answer "yes." It's called the Delaware State Fair, an annual event at which he has worked for 25 years. 
Crouse wears many hats inside the 271 acres of the Harrington-based state fairground. As Kent County's 4-H agent and 4-H building superintendent — and also serving year-round as the fairground's treasurer and on the board — the days and weeks surrounding the 10-day "fair week" are full of planning and excitement equaled only by the winter holiday.
'Resilience Engineering'
The University of Delaware's Nii Attoh-Okine recently published a new book with Cambridge University Press, "Resilience Engineering: Models and Analysis."
Reviresco June run
UD ROTC cadets will run from New York City to Miami this month to raise awareness about veterans' affairs.
If any event can get a human being frazzled, it would be the first day of fair week as questions are put to Crouse left and right. 
The Delaware 4-H building, located at the Centre Ice Rink, averages 10,000 4-H exhibits alone. Crouse is the go-to authority for where they are placed and how each is arranged for display. 
But Crouse, who hears his name called numerous times, answers each question and solves each mini-crisis with calm aplomb. "If I can survive the first day, the rest of the fair I am home free," he said.
Paula Woods, a Kent County 4-H volunteer, said of Crouse, "I go to Doug for everything. He can multi-task like no one I ever known. He is more than kind and he never loses his temper."
Crouse's unflappability and calm manner come from years of experience and doing what he loves. He was nearly born into it.
Born and raised in Felton, Delaware, Crouse grew up with 4-H. At the age of 10, he joined the Harrington Sunshine 4-H Club and was exposed to all that 4-H had to offer. "I did everything in 4-H, except state 4-H camp," Crouse said. 
His 4-H leader was Jane Everline, whose high expectations Crouse recalls fondly. "It was never put to us, 'Will you do a public speech or demonstration?' Rather I was asked, 'What is your public speaking topic going to be?' Participation in those events was expected," said Crouse.
After Crouse graduated from high school and the 4-H program, he earned an accounting degree from Delaware State University and began a 20-year career in banking. Crouse worked at several local banks as a teller, a branch manager, in loans and credit and eventually as president of his hometown Felton Bank.
In 1982, Crouse married Karen Poore, and the first of their two daughters, Heather, arrived two years later. Heather joined 4-H at the age of 9, and her sister Jennifer followed. All became members of the same club to which their father had belonged. 
A 4-H career beckons
Eventually, when the organizational leader of 4-H stepped down, Crouse was asked to assume the role, which he did along with his wife Karen. For Crouse, returning to 4-H felt right.
Under their joint leadership, the club's roster grew from eight members to well over 100.
As a full time banker, Crouse never saw the additional responsibilities of running a 4-H club as a burden, rather he saw it as a respite. "4-H was my way of relieving stress," Crouse said. "I love working with children."
In 2001, Crouse became a Kent County 4-H agent. 
Although he was president of the Felton Bank, Crouse was looking for something different in his life and talked about it with his family. The decision was a difficult one to make with salary an important factor. "Having money does not always lead to happiness and it is a decision I have never regretted," said Crouse.
In 2006, Crouse became Kent County Extension director, housed at the Paradee Center in Dover. 
Fair treasurer 
Crouse's financial experience and reputation made him a natural to be tapped to help the fair's treasurer. In 1982, while still working as a banker, Crouse was asked if he was interested in helping the fairground's part-time treasurer. He agreed and served seven years as an assistant to the treasurer, helping with gate sales and admissions. 
In 1989, the treasurer retired and Crouse found himself voted in as a fair board member and treasurer.
Serving on the 80-member fair board is a year-round task, and while fair board members tour other fairs to get new ideas to bring back to Delaware, Crouse said, "Nothing can compare to what we have here."
In his years as treasurer, Crouse has many interesting stories to tell, as he's personally met almost every entertainer who has played at the Harrington venue. Crouse reviews the contracts that come in, working closely with the agents to see it all runs smoothly and learns of the usual show business requests, such as the type of stool an entertainer wants to sit on, or a particular brand of food or beverage an act may want. 
The most puzzling line item came when a country act stipulated in their contract that they did not want any farm animals visible during their stay at the fairgrounds. "I was surprised at that kind of request," said Crouse.
Article by Michele Walfred
Photo by Jacquelyn Arpie