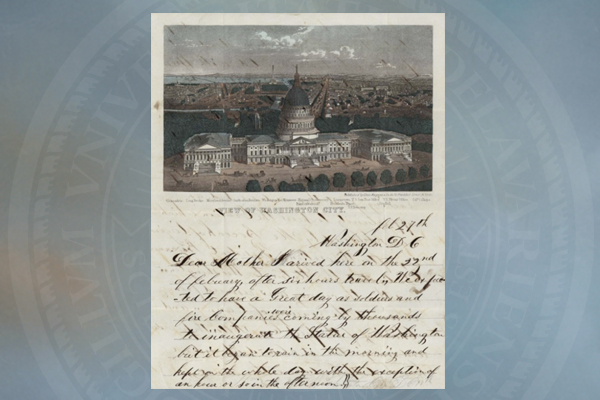 Civil War letters
University Library digitizes Civil War letters of Edward A. Fulton
12:36 p.m., July 23, 2014--The University of Delaware Library has digitized all Civil War letters of Edward A. Fulton, which are available worldwide via the library web.
Many library users have shared their pleasure in being able to globally access the Civil War letters, a representative of the University Library said. 
From graduates, faculty
As it neared time for the processional to open the University of Delaware Commencement ceremonies, graduating students and faculty members shared their feelings about what the event means to them.
Doctoral hooding
It was a day of triumph, cheers and collective relief as more than 160 students from 21 nations participated in the University of Delaware's Doctoral Hooding Convocation held Friday morning on The Green.
The collection is comprised of correspondence of 39 letters written primarily between 1860 and 1863. The majority of the letters were written by Fulton, a Union soldier, to his mother, Mary Fulton, of Wilmington, Delaware, during the war.
Access to the digitized versions of the Edward A. Fulton collection is available via "Digital Collections" on the library's web page.
Transcriptions of the letters on the digital site were produced by the staff of the former Preservation Department (now the Center for Digital Collections) in the University of Delaware Library. 
Access to the original Edward A. Fulton items is available via Special Collections located on the second floor of the Morris Library. Special Collections is open to the public with identification.
Fulton served in the Union Army from 1861 to 1863. After traveling through Europe, he joined the 1st Delaware Volunteer Regiment. In 1861, the regiment traveled to Aberdeen, Maryland, where it was assigned to guard the railroad bridges over the Susquehanna River. 
In 1862, Fulton joined the 72nd Regiment of Pennsylvania volunteers. His background in engineering and topography led to his assignment to travel around and become acquainted with the "Location of Batteries and the roads to and from Them" (Letter, May 1, 1862). He subsequently became responsible for guiding reinforcement troops to the batteries in need of support. 
In 1862, Fulton was injured and spent the following six months in a military hospital in Sharpsburg, Maryland. After recuperating from injuries that nearly cost him his leg, he was discharged on a Surgeon's Certificate on May 1, 1863. 
His mother, Mary, and sisters, Sarah and Anna, were residents of Wilmington, Delaware, during Fulton's period of service. The location of his sister, Sade Fulton Wright, is not known.
About Special Collections
Holdings of Special Collections of the University of Delaware Library include books, manuscripts, maps, prints, photographs, broadsides, periodicals, pamphlets, ephemera and realia from the 15th to the 21st century. The collections complement the library's general collections with particular strengths in the subject areas of the arts; English, Irish and American literature; history and Delawareana; horticulture; and history of science and technology.