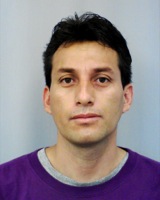 Suspect in jail
Man charged with 21 counts of criminal violation of privacy
Editor's note: This article was updated Aug. 1 with the addition of the Wright House as another location identified as a place where recordings were made.
2:00 p.m., July 25, 2014--The University of Delaware Police Department has arrested and charged a UD graduate student with 21 counts of criminal violation of privacy for allegedly hiding video cameras in various restrooms – most of them women's restrooms – over a period of more than two years.  
The cameras have been seized by police, along with other hardware and peripherals belonging to the suspect. Initial forensics indicate that no video files were uploaded to the Internet or shared with any other individuals.
June 6: UDid It! Picnic
All UD faculty and staff members are invited to attend the annual UDid It! employee appreciation picnic, set from 11 a.m.-1:30 p.m., Monday, June 6, on The Green.
2FA protects you
If you are using two-factor authentication (2FA), even if a hacker has your password, your information is probably safe.
Under the University's Student Code of Conduct, graduate students who are arrested are automatically referred to the Office of Graduate and Professional Studies for adjudication.
The investigation
A hidden camera was discovered in a women's restroom at the Delaware Biotechnology Institute (DBI) on June 27. After a UD Police investigation, Javier Mendiola-Soto, 38, a doctoral student from Mexico who worked at DBI, was arrested on July 1 and charged with one count of violation of privacy, a felony under Delaware law. On July 24, he was charged with an additional 20 charges of violation of privacy. The suspect remains in custody at the Howard Young Correctional Institution in Wilmington. His visa has been revoked and he is ineligible for release on bail. 
A police search of Mendiola-Soto's residence have produced approximately 1,500 video files of computerized video images. These video images are being analyzed by the forensics department of the Middletown Police Department, which assists in conducting forensic analysis for other police departments in the state of Delaware. The analysis concluded that the suspect hid video cameras in other restrooms both on and off campus over a more than two-year period from 2012 until his arrest this month. 
The scope of the recordings continues to be a focus of the investigation, and the police are attempting conclusively to identify all potential recorded locations. The time period of the recordings analyzed to date extends from May 2012 through June 2014. Police have confiscated all the video files. In compliance with criminal law enforcement protocol, those files are safely secured and not accessible to anyone except law enforcement personnel. 
The police do not believe that any recordings were made in residence halls. Restrooms in the following locations have been identified as places where recordings were made:
Delaware Biotechnology Institute, first floor lobby restroom and first floor women's restroom in a secured area;
Hugh Morris Library, women's restroom in first floor commons area (Bleecker St.);
Memorial Hall, first floor women's restroom;
ISE Lab, first floor women's restroom in the Gore wing of building;
Willard Hall Education Building, first floor, unisex handicapped-accessible restroom; and
Wright House, 44 Kent Way, first floor restroom.
Response actions
"It is extremely disturbing that this crime was perpetrated against our community invading the privacy of so many women on and around this campus," said UD President Patrick Harker. "We are taking this matter extremely seriously, cooperating with the Delaware Attorney General's office and conducting this investigation with urgency and a deep respect for the privacy of the victims, in coordination with the Middletown Police forensics team. 
"At the same time, we are taking significant actions in response to this incident. We will consult an independent campus security and privacy expert to help us identify what measures other campuses may have taken in response to similar occurrences. When our students and faculty members return to our campuses in the fall, we will initiate a public awareness campaign on our responsibility to protect our community and report any suspicious activity. 
"In the meantime, we have implemented several actions already, including security sweeps of all restrooms and changing rooms on all campuses, randomly timed examinations of all restrooms by custodial staff and increased police patrols throughout buildings," Harker said.  
"Invasions of privacy crimes are becoming an increasing concern on college campuses and in public areas given the ready access to small and sophisticated spying devices," said Skip Homiak, UD's Executive Director of Campus and Public Safety. "We urge the University of Delaware community to report any suspicious activity when they see it. The success of our security and privacy policies and programs must be grounded in the ongoing vigilance and participation of the community." 
Potential victim identification
On July 1, staff members and graduate students at DBI were notified of the situation. The investigation identified approximately 40 potential victims, all of whom have been contacted or are in the process of being contacted by the police. UD officials understand that some members of the University community may want to know whether their images were captured at other locations in videos discovered on the suspect's computer. Anyone who believes she or he may have been recorded and who seeks to know whether her or his image is captured on the seized videos is invited to call a special hotline of the University Police Department regarding this matter at 302-831-4800. 
A police detective will make arrangements to review facial images captured on video in order to determine whether the inquiring individual's image was recorded. This work will be conducted with the privacy of all members of the UD community uppermost in mind. It may take time, but UD is committed to doing what it can to address the questions and concerns of potential victims.
All investigative work has been conducted, and will continue to be conducted, under strict guidelines and protocols designed to protect the privacy of any individual whose image may have been captured on video. The announcement of this criminal investigation was made now because it could not be done before the identification of complaining witnesses and the provision of notification to those witnesses, which required time-consuming forensic work. In the judgment of law enforcement officials, the public announcement of this investigation could not have been made before now without running the risk of jeopardizing an ongoing criminal prosecution. 
All videos are secured in a location under the control of the Criminal Investigations Unit of the UD Police Department, and the videos will not be accessed by, shared with, or viewed by anyone except for purposes of assisting concerned members of the UD community to learn whether they have been videotaped. Once criminal proceedings are resolved, the evidence will be securely stored until destroyed in accordance with police procedures.
Counseling available 
UD Police are meeting with staff and students to gather additional information and address any concerns. UD will make counseling services available to any member of the UD community, present or former, who requests it in connection with this recording activity. Counseling services for students are available through the Center for Counseling and Student Development, and counseling services for employees are available through the Faculty and Staff Assistance Program. Individuals seeking counseling support should call 302-831-4800.
Anyone with additional information about this case is encouraged to contact University of Delaware Police at 302-831-2222 or send email to UDPrivacy@udel.edu.