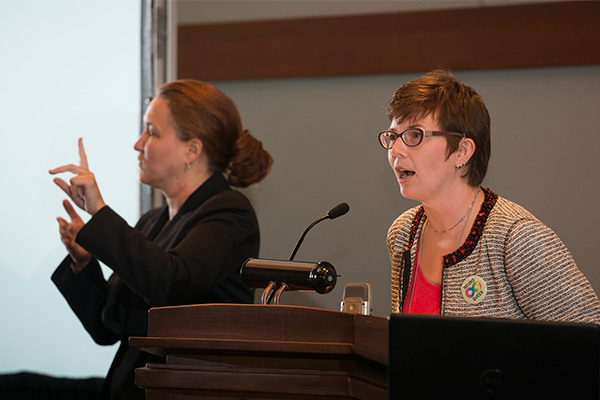 Research opportunity
UD English department's Kerschbaum awarded AAUW research fellowship
10:28 a.m., July 11, 2014--Stephanie L. Kerschbaum, assistant professor of English at the University of Delaware, has been named a recipient of a 2014-15 American Association of University Women (AAUW) Postdoctoral Research Leave Fellowship.
The fellowship seeks to increase the number of women in tenure-track positions and promote equality for women in higher education by enabling the candidate to spend a year pursuing independent research. 
National Medal of Science
President Barack Obama recently presented the National Medal of Science to University of Delaware alumnus Rakesh Jain.
Warren Award
Rosalind Johnson, assistant dean for student success in the NUCLEUS Program in UD's College of Arts and Sciences, was presented the John Warren Excellence in Leadership and Service Award during a May 26 ceremony.
"I'm really thrilled to receive this fellowship," Kerschbaum said. "It feels like a real gift to be afforded the time and opportunity to devote most of my energy to this project, and to have the luxury of time to think and engage the new research data I'm collecting." 
The AAUW fellowship recognizes and facilitates the impact of Kerschbaum's work as a rising star in the field of disabilities studies, composition and rhetoric, said John Ernest, who chairs UD's Department of English.
"We in the English department are very excited that Stephanie has earned this great recognition and this opportunity to focus on and develop her important work," Ernest said. "We are very fortunate to have her at UD." 
During her fellowship year, Kerschbaum will be collaborating with Margaret Price, associate professor of English at Spelman College in Atlanta, to conduct a study focusing on faculty members with disabilities and how they disclose those disabilities within the academic workplace.
"We are collecting two kinds of data, the first being responses to a large-scale survey of faculty who have mental health issues," Kerschbaum said. "The study also includes in depth interviews with faculty members who have a broad range of disabilities." 
Kerschbaum plans to eventually analyze the interviews to understand how disability shapes the interview context. 
"Interviews are unique social settings where conversations don't happen in exactly the same way they might if two people started up a conversation at a professional event or social gathering," Kerschbaum said. "I'm really interested in questions about how everyday conversation proceeds, and toward that end I'll be analyzing very detailed, fine-grained transcripts from the interviews that allow me to really understand how disability influences the way people communicate." 
Complementing the collection of data and generation of interview transcripts will be a cross-data analysis and drafting of publications based on the material, Kerschbaum said. 
Reflections on the work of Kerschbaum and Price in the areas of disability and disclosure are available at the DiversityUS blog of UD's Center for the Study of Diversity. 
A faculty scholar affiliated with the center, Kerschbaum's research interests include writing, identity and issues of diversity.
"I love thinking about how who we are influences the ways we interact with other people," Kerschbaum said. "A great deal of my research involves focusing very carefully on moments of everyday interaction in the classroom and during interviews, in an effort to understand how people make decisions about how to respond to others." 
In the classroom, Kerschbaum said she enjoys teaching writing, rhetoric and composition, as well as engaging with other scholars and thinkers committed to addressing issues of diversity. 
"My primary scholarly focus, and the topic of my book, Toward a New Rhetoric of Difference (National Council of Teachers, 2014), is first-year composition," Kerschbaum said. "I feel fortunate to have the opportunity to regularly teach that course and conduct graduate seminars focused on rhetoric and writing studies." 
Kerschbaum received a bachelor's degree in English from Ohio State University and a master's degree in literary studies and a doctoral degree in rhetoric and composition, both from the University of Wisconsin, Madison. 
Article by Jerry Rhodes
Photo by Kathy F. Atkinson