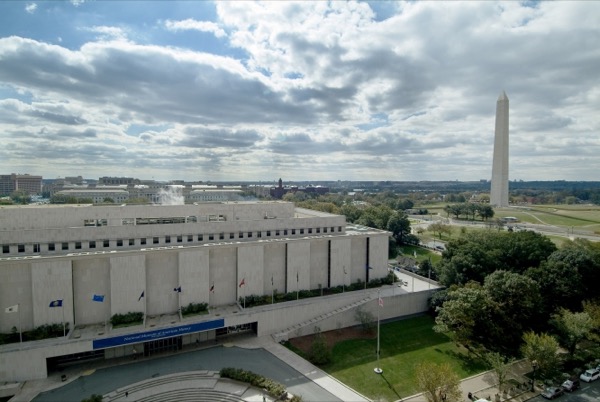 Smithsonian internships
UD, National Museum of American History partner to offer internships
1:51 p.m., Jan. 7, 2015--Two University of Delaware interns are spending Winter Session at the National Museum of American History (NMAH) under a new agreement reached between UD's College of Arts and Sciences and the Smithsonian Institution.
The UD internships are supported by a gift from the Loeb Family Foundation.
Simone Austin, who completed the coursework for her bachelor's degree in December, and senior Vincent Ryan, who is majoring in art history, began working at the Washington, D.C., museum, which is part of the Smithsonian, this month. 
'Resilience Engineering'
The University of Delaware's Nii Attoh-Okine recently published a new book with Cambridge University Press, "Resilience Engineering: Models and Analysis."
Reviresco June run
UD ROTC cadets will run from New York City to Miami this month to raise awareness about veterans' affairs.
The museum and the college recently completed a partnership agreement creating the program geared specifically to UD's five-week Winter Session. 
"Given the resources and faculty in the College of Arts and Sciences [CAS] at the University of Delaware, many of our students are uniquely qualified in the study of material culture — objects, archival documents and artifacts of culture and what they tell us about ourselves and our past," said Robin G. Schulze, the college's interim associate dean for the humanities and a professor of English.
"The Smithsonian internship is a perfect opportunity for Simone and Vincent to apply what they have learned and get practical experience working side by side with curators in one of the nation's premier institutions."
Joyce Dennis Henderson, assistant director for employer partnerships at the University's Career Services Center, began discussing the possible internships with the museum in 2013 as a way to provide hands-on experience to students in a variety of majors in CAS. The agreement establishes the program for five years and provides for the placement of up to four UD interns each January.
The agreement notes that NMAH provides "an ideal setting" for students in such fields as American history, American studies, popular culture, museum education, museum studies and arts administration to gain professional experience while they "support the operations of the museum and learn under the supervision of NMAH's staff."
NMAH has other internship programs but is seeking to expand the number and diversity of institutions and students with which it works. The goal of all the programs is "to provide interesting and rewarding internships designed around specific museum projects," intern and fellows program manager Omar Eaton-Martinez writes on the museum's website.
Interns, who come to the program from a variety of backgrounds and fields of study, work in such areas as historical research, public programs, collections management and exhibition design, Eaton-Martinez says. Other interns working with Austin and Ryan this winter are from Indiana University and Middlebury College.
Austin, who has a double major in political science and international relations and in Black American studies, said she plans to attend graduate school next fall in history with a focus on the African diaspora. The internship, she said, appealed to her because of her interest in public history and education, which resulted from her undergraduate research with Gabrielle Foreman, who is Ned B. Allen Professor of English.
"I'm really looking forward to gaining hands-on experiences," Austin said of the internship. "I hope to gain insight on curation for museums and the education component that is part of museum studies."
She and Ryan were selected as the first UD interns in the program after a competitive search and preparation process, during which Schulze said she was "tremendously impressed" by all the students who were interviewed. A similar process will be held early next fall to select interns for Winter Session 2016.
Located on the National Mall in Washington, D.C., NMAH has a collection of 3 million objects and documents and presents exhibitions that explore U.S. history and culture from the Revolutionary War to America today. The museum also presents various public programs, including lectures and performances, and its Archives Center houses collections of documents and photographs.
Article by Ann Manser
Photo courtesy of the Smithsonian Institution