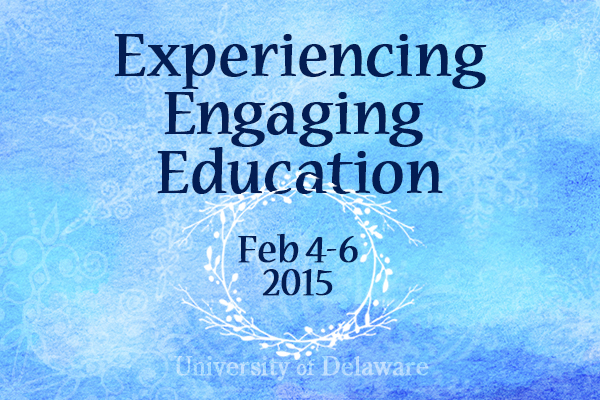 'Experiencing Engaging Education'
UD's Winter Faculty Institute and ITUE Workshop to be held Feb. 4-6
1:52 p.m., Jan. 14, 2015--The 2015 Winter Faculty Institute and ITUE Workshop, titled "Experiencing Engaging Education," will be held Feb. 4-6, offering a program to help University of Delaware faculty implement the active learning approaches that best match their teaching styles and subject areas.  
Throughout the hands-on, team-based sessions, 18 UD faculty members will model techniques with which they've had teaching success.
June 6: UDid It! Picnic
All UD faculty and staff members are invited to attend the annual UDid It! employee appreciation picnic, set from 11 a.m.-1:30 p.m., Monday, June 6, on The Green.
2FA protects you
If you are using two-factor authentication (2FA), even if a hacker has your password, your information is probably safe.
The keynote, "Engage! Designing for Connected Futures," will be presented by Ann Hill Duin from the University of Minnesota on Thursday Feb. 5.
According to Stephen A. Bernhardt, Unidel Andrew B. Kirkpatrick Jr. Chair in Writing in the Department of English, "Professor Duin has followed -- and actually has helped design the infrastructure in support of -- current trends and transformations in connected learning. During her keynote, Ann will engage faculty in active exploration of connectivism, personal learning networks (PLNs), and shared leadership, encouraging us to re-imagine and re-create ourselves, our courses, and our curricula for an engaging future."
Duin and Bernhardt will be appearing on WVUD's Campus Voices at 8:30 a.m., Thursday, Jan. 22, to talk about the upcoming workshop and "engaged" teaching in general. The interview can be heard live on 91.3 FM in the Newark area or streamed live from the WVUD website.
"We all want engaged students, students who want to learn, who generate questions and ideas, who need to be reminded that class has ended," said Tony Middlebrooks, associate professor in the School of Public Policy and Administration. 
"The February program is a great opportunity for those who teach at the university level to develop their thinking, teaching skills and courses around an active learning strategy. Ann's 'students first' approach will set the stage for the hands-on workshops," Middlebooks added.
"Experiencing Engaging Education" is based around in-depth, two-and-a-half day workshops to help faculty develop one of three active learning strategies for their students:
Project-Based Learning: Collaborative, facilitated, team-based activities that work toward and deliver a significant, clearly communicated and useful product for a real or hypothetical client.
Design-Based Learning: Small team, problem-solving activities that utilize principles of design thinking, including rapid prototyping and iterative modeling.
Studio-Based Learning: Open-space, individualized, iterative instruction in the form of modeling, critique, guidance and support.
According to Jon Cox, assistant professor of art, the balance of the program for "Experiencing Engaging Education" will "combine some of the features of previous Winter Faculty Institutes with those of workshops offered by ITUE and ISLL (Interdisciplinary Science Learning Laboratories)." 
As at previous events, the workshop facilitators will be UD faculty members, 
But this year's program will:
Provide an active learning experience for the faculty participants as they work in teams to develop teaching strategies.
Use innovative classroom facilities across the UD campus.
Be open to faculty from colleges, universities and public schools.
Expect participants to commit to the complete two-and-a-half day program.
"If you are a faculty member who wants to return to your classroom with practical experience instead of a set of conference notes, then you should attend 'Experiencing Engaging Education,'" Cox said.
More information
The event is sponsored by partners of Faculty Commons: 
Center for Teaching and Assessing Learning (CTAL)
Institute for Transforming Undergraduate Education (ITUE)
Interdisciplinary Science Learning Laboratories (ISLL)
IT Academic Technology Services (IT-ATS)
University of Delaware Library
This event is project-based and team-based.  As much as possible, full participation throughout the two and a half days is appreciated for the integrity of the project and team work.  Participation is free for UD teaching faculty, but there are fees for participants from outside the University. 
Register and view additional program details at the "Experiencing Engaging Education" website.