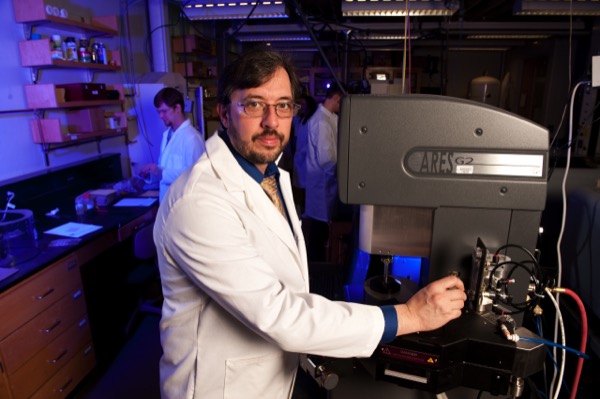 Engineering honor
National Academy of Engineering elects UD's Norman Wagner
10:52 a.m., Feb. 9, 2015--Norman J. Wagner, a University of Delaware engineering professor noted for his groundbreaking research in fluid mechanics and molecular thermodynamics, has been elected to the prestigious National Academy of Engineering.
Wagner, the Robert L. Pigford Chaired Professor of Chemical and Biomolecular Engineering at UD, is among NAE's 67 new members and 12 foreign members.
National Medal of Science
President Barack Obama recently presented the National Medal of Science to University of Delaware alumnus Rakesh Jain.
Warren Award
Rosalind Johnson, assistant dean for student success in the NUCLEUS Program in UD's College of Arts and Sciences, was presented the John Warren Excellence in Leadership and Service Award during a May 26 ceremony.
Election to the National Academy of Engineering is among the highest professional distinctions accorded to an engineer. 
Academy membership honors those who have made outstanding contributions to engineering research, practice, or education, including, where appropriate, significant contributions to the engineering literature, and to the pioneering of new and developing fields of technology, making major advancements in traditional fields of engineering, or developing/implementing innovative approaches to engineering education.
"We welcome Norm Wagner's election to the National Academy of Engineering, a well-deserved honor that recognizes an outstanding career that has encompassed research, innovation, entrepreneurship and education," said Babatunde Ogunnaike, dean of the College of Engineering. "This is a good day for the Department of Chemical and Biomolecular Engineering, the College of Engineering, the University of Delaware, and indeed the entire state of Delaware."
Abraham M. Lenhoff, chair of the department, hailed Wagner for compiling a  "record of accomplishment that is appreciable in almost every conceivable category of professional activity:  experimental, theoretical and computational research; scholarship, education and mentoring; invention and entrepreneurship; and academic and professional leadership."
Wagner joins six other College of Engineering faculty members and emeritus faculty as members of the NAE: Ogunnaike, dean and William L. Friend Chair of Chemical Engineering (2012); David L. Mills, professor emeritus of electrical and computer engineering (2008); Mark Barteau, professor emeritus and former chair of the Department of Chemical and Biomolecular Engineering (2006); Dominic Di Toro, Edward C. Davis Professor of Civil and Environmental Engineering (2005); Stanley Sandler, H.B. du Pont Chair of Chemical Engineering (1996); and T.W. Fraser Russell, Allan P. Colburn Professor Emeritus of Chemical Engineering (1990). 
"I am very appreciative of election to the NAE and somewhat intimidated to join a group of current and former UD faculty and alumni who I consider to be among the greatest engineers ever," Wagner said. "UD and, in particular, the Department of Chemical and Biomolecular Engineering, has provided the excellent resources, mentoring and opportunities for me to grow in my academic career and realize my dreams in research, teaching, and applied engineering science."
"Most importantly," Wagner added, "I have benefited greatly from the dedicated work of numerous undergraduate, graduate and postdoctoral students and many colleagues, mentors and co-instructors over the past 20-plus years, and I am honored to be part of this 'Delaware Tradition of Excellence.' As the reality of this award begins to sink in, I look forward to continuing to contribute to the UD academy in my new role as another Delaware member of the NAE."
About the honoree
Wagner served as chair of UD's Department of Chemical and Biomolecular Engineering from 2007-12 and directs the University's Center for Neutron Science (CNS).
He leads an active research group with focus on the rheology of complex fluids, neutron scattering, colloid and polymer science, applied statistical mechanics, nanotechnology and particle technology.
Wagner's research areas include the effects of applied flow on the microstructure and material properties of colloidal suspensions, polymers, self-assembled surfactant solutions, and complex fluids in general.
Wagner's recent awards include election as a fellow of the American Association for the Advancement of Science (2015), the Bingham Medal of the Society of Rheology (2014), election as fellow of the Neutron Scattering Society of America (2014), and the American Institute of Chemical Engineers Thomas Baron Award in fluid-particle systems (2013).
He was awarded the Siple Award in 2002 by the U.S. Army for his development of shear thickening fluids for novel energy absorbing materials and is co-founder of STF Technologies LLC, a company commercializing STF-Armor for puncture-resistant surgical gloves.
Wagner has authored or coauthored over 200 scientific publications and patents, and serves on the executive committees of the Society of Rheology and the Neutron Scattering Society of America, as well as on the editorial boards of six international journals.
He has co-authored a textbook titled Mass and Heat Transfer: Analysis of Mass Contactors and Heat Exchangers (2008) for the chemical engineering series of Cambridge University Press, as well as Colloidal Suspension Rheology (2011), also Cambridge University Press.
Patented and commercially developed scientific instruments include rheo-optic instruments (TA Instruments) as well as novel rheo-SANS instruments for investigating nanoscale and microscale structure in flowing systems currently available at the National Institute of Standards and Technology Center for Neutron Research and the Institute Laue Langevin D22, Grenoble, France.
Wagner earned his bachelor's degree from Carnegie Mellon University and his doctorate from Princeton University, was a National Science Foundation/NATO Postdoctoral Fellow in Germany, and was a Director's Postdoctoral Fellow at Los Alamos National Lab prior to joining the University of Delaware faculty in 1991.
He was named a Senior Fulbright Scholar (Konstanz, Germany) and served as a guest professor at the ETH, Zurich (1997) and the University of Rome (2004). 
The Department of Chemical and Biomolecular Engineering will hold a reception to honor Wagner at 4 p.m., Wednesday, Feb. 11, in the second floor atrium of the Colburn Laboratory.
About the NAE
Founded in 1964, the U.S. National Academy of Engineering is a private, independent, nonprofit institution that provides engineering leadership in service to the nation. Its mission is to advance the well-being of the nation by promoting a vibrant engineering profession and by marshaling the expertise and insights of eminent engineers to provide independent advice to the federal government on matters involving engineering and technology.
With the 2015 class of members, NAE's total U.S. membership expands to 2,263 and the number of foreign members to 221.