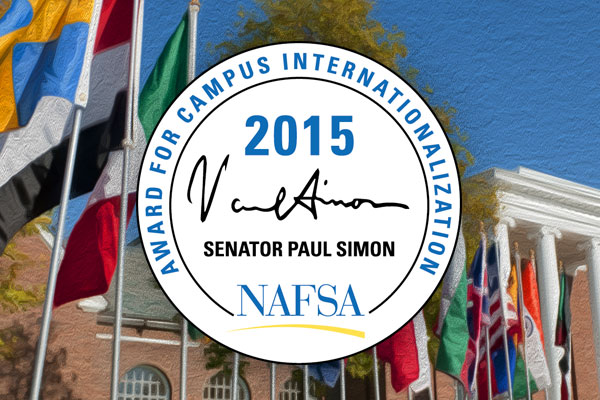 A global honor
UD among five universities recognized with top internationalization award
10:09 a.m., Feb. 24, 2015--NAFSA's 2015 Senator Paul Simon Awards for Comprehensive Internationalization will be presented to five U.S. universities and colleges, including the University of Delaware, for excellence in integrating international education across all aspects of college and university campuses. 
UD, Mount Holyoke College, North Central College, the University of San Diego and the University of Virginia will receive the 2015 Simon Award for Comprehensive Internationalization for "making significant, well-planned, well-executed, and well-documented progress toward comprehensive internationalization — especially those using innovative and creative approaches."
Fulbright awards
Three University of Delaware students and an alumna have received word this spring that they will travel abroad as part of the newest class of Fulbright Student Program award winners.
Peace Corps plans
Two University of Delaware students, John McCarron and Bridgette Spritz, have been selected as Peace Corps volunteers and will serve in Ghana and Rwanda.
"We are proud to present NAFSA's 2015 Simon Awards to these colleges and universities that have excelled in expanding global learning for students and scholars," said Marlene M. Johnson, NAFSA executive director and CEO. "This year's Simon Award winners are outstanding models for how higher education across the country can and must innovate to prepare our graduates for success in today's increasingly complex and interdependent world."
"The University of Delaware has a long tradition of international scholarship and service," President Patrick Harker said of the award announcement. "Our mission compels us to prepare students not only for global competition but also global collaboration. We teach our students how nations relate to one another — historically, culturally, socially, politically, economically, ideologically — so that they might develop the capacity and the desire to work across borders and biases to solve issues of international significance."
UD was recognized for a comprehensive approach to international education guided by the 2008 Path to Prominence strategic plan, which called on the campus community to "foster knowledge and awareness of the economic, environmental, political, cultural and social issues that face the world, and the skills to address them."
The winning application cited Delaware's progress since that time, including the establishment of the Institute for Global Studies (IGS) in 2009, the reorganization of the Office for International Students and Scholars (OISS), and re-opening of the Wright House, a campus hub for international activities. 
Long known as a leader in study abroad, the University also shared details of new, innovative programs such as the English Language Institute's CAP Cohort Model, UD World Scholars Program, Delaware Diplomats, Globex Fund, UD Africa, Fulbright Initiative, and expanded opportunities for undergraduate global engagement, including micromesters, internships and service learning fostered by membership in the Clinton Global Initiative and the Taillores Network.
"We have worked hard to build the infrastructure and opportunities that support a culture of global engagement," said Nancy Guerra, associate provost for international programs, "and we are thrilled to have been recognized by our peers and NAFSA, the preeminent organization in international education."
About the Simon Awards
Three additional institutions – Rice University, Virginia Commonwealth University and Wake Forest University – will receive the 2015 Senator Paul Simon Spotlight Award for a specific international program or initiative that contributes to comprehensive internationalization.
Named for the late Sen. Paul Simon of Illinois, NAFSA's Simon Awards recognize outstanding and innovative achievements in campus internationalization. From the innovative use of technology to expanded English language and support systems, the 2015 Simon Award winners reflect a broad diversity of approaches to campus internationalization, both in terms of models and implementation. 
Sen. Simon was a strong supporter of international education and foreign language learning. His leadership in these areas was especially evident in his robust support for the creation of the National Security Education Program, which addresses critical national security deficiencies in language and cultural expertise, and for his vision of a national program to greatly expand U.S. citizens' knowledge of the world, which was the inspiration behind the proposed Senator Paul Simon Study Abroad Foundation Act. 
Institutions selected for the Simon Awards will be featured in NAFSA's report, Internationalizing the Campus: Profiles of Success at Colleges and Universities, to be published this fall, and honored at an event in Washington, D.C., during International Education Week in November. To learn more about NAFSA's Senator Paul Simon Awards, visit the website.