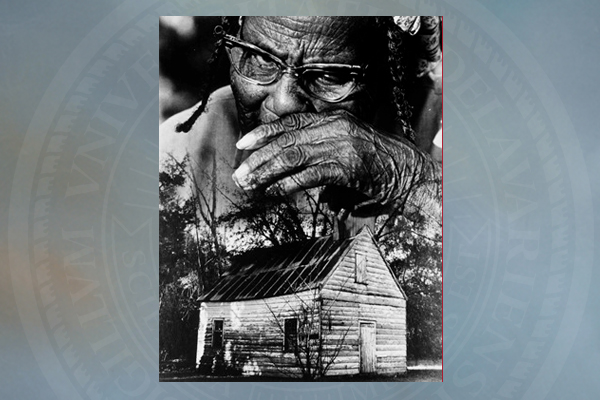 Feb. 11-May 17: 'Forget Me Not' exhibition
Mechanical Hall Gallery to feature works from African American art collection
8:28 a.m., Feb. 5, 2015--The University Museums of the University of Delaware will present the exhibition "Forget Me Not: Photography Between Poetry and Politics" from Feb. 11 to May 17 in the Mechanical Hall Gallery.
Drawn from the University Museums' African American art collection, "Forget Me Not" foregrounds the photographic arts as testimony and remembrance, aesthetic document and encomium.
June 5: Blue Hen 5K
University of Delaware graduates planning to attend Alumni Weekend are encouraged to register for the annual Blue Hen 5K walk and run, which will be held Sunday morning, June 5.
June 6-9: Food and culture series
The 20th annual June Lecture Series at the Osher Lifelong Learning Institute at UD in Wilmington will be held June 6-9. Titled 'June a la Carte,' this year's program focuses on great political documents, feminism, world politics and a Newark cuisine sampler.
From the late 19th-century portraits taken by Augustus Washington and Gallo W. Cheston to P.H. Polk's photographs of the Tuskegee Airmen, "Forget Me Not" commemorates individual, communal and national narratives.
Remembered in the exhibition are troubling histories of racial discrimination and disenfranchisement, legacies of a segregated America as well as persistence, resistance and the creativity of its opposition.
The themes evoked by the works on view include aspiration, family and love; ritual, beauty and performance; and authority, autonomy and resilience.
Through images that range from elegant to the elegiac, the exhibition showcases work by artists active from the 1840s to the present day, among them James VanDerZee, Roy DeCarava, Bert Andrews, Carrie Mae Weems, Ming Smith, William Anderson, Wendel White, Colette Gaiter and Clarissa Sligh.
Special presentations
There will be several special presentations in conjunction with "Forget Me Not."
Julie L. McGee, curator of African American art and associate professor in the Department of Black American Studies, will give a Perspective lecture at 12:30 p.m., Wednesday, Feb. 18, at the Mechanical Hall Gallery.
The 2015 Paul R. Jones Lecture, named in honor of the late benefactor who donated a large portion of his art collection to the University, will be delivered by artist and filmmaker Thomas Allen Harris at 7 p.m., Monday, March 2, in the Trabant University Center Theatre.
Harris is the founder and president of Chimpanzee Productions, and his acclaimed 2014 documentary Through a Lens Darkly: Black Photographers and the Emergence of a People looks at the work of African American photographers. He also has created the Digital Diaspora Family Reunion Roadshow, a project that focuses on family photographic collections of African Americans.
An Artist's Talk by visual artist and essayist Clarissa Sligh will be held at 5 p.m., Tuesday, March 24, in 130 Smith Hall. 
A First Thursday open house will be held from 4:30-7:30 p.m., Thursday, May 7, at the Mechanical Hall Gallery.
For more information on this exhibition and other related programs, or to schedule a tour, see the University Museums website or call 302-831-8037.