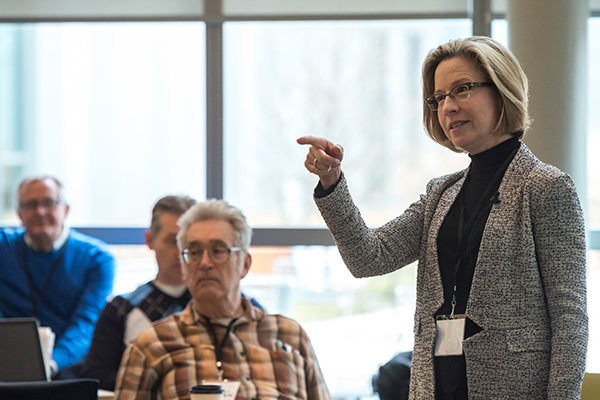 EEE 2015
UD's Experiencing Engaging Education 2015 workshop a success
2:05 p.m., Feb. 12, 2015--More than 100 participants attended the University of Delaware's Experiencing Engaging Education (EEE 2015) workshop, Feb. 4-6, learning about three different methods of implementing problem-based learning (PBL) in University classrooms.
The three-day event, sponsored by partners in UD's new Faculty Commons, was a combination of the annual Winter Faculty Institute and bi-annual Institute for Transforming Undergraduate Education (ITUE) PBL workshop. 
June 6: UDid It! Picnic
All UD faculty and staff members are invited to attend the annual UDid It! employee appreciation picnic, set from 11 a.m.-1:30 p.m., Monday, June 6, on The Green.
2FA protects you
If you are using two-factor authentication (2FA), even if a hacker has your password, your information is probably safe.
The workshop was designed to introduce educators to the concept of problem-based learning through presentations by faculty and graduate students from six of UD's seven colleges, an extended workshop project, presentations from support staff and a keynote presentation. 
The individual sessions gave faculty and staff ideas on how to implement three extensions of PBL — project-based, design-based, and studio-based learning — into their classrooms, regardless of their academic discipline. The conference also gave faculty a chance to learn from one another's techniques and develop their own personal learning networks. 
The EEE 2015 sessions gave faculty specific, usable tools that they could apply in their classrooms right away to increase student engagement. 
One participant noted, "I liked the workshops on educational methods that you could get from departments all over campus. It really helped me see how all these departments could be working together on a common course."
"John Pelesko's workshop on helping students learn how to ask questions was very informative and transferable into the classroom without much tweaking," said another participant. 
The second day of EEE 2015 began with a keynote address delivered by Ann Hill Duin, professor of writing studies at the University of Minnesota. The address was titled "Engage! Designing for Connected Futures." 
Duin posed questions about how people engage and connect with knowledge and with each other. She asked participants to consider these questions as educators and challenged them to reflect on how their students, having been born into a world of constant connection, engage and connect. 
"Due to the constantly changing landscape of knowledge, our job as educators is to make sure that our students develop a robust and diverse network and engage that network in continuing their education," Duin said.
She explained that technology is an aid in the social construction of knowledge and a key component of what educators and students should be doing. 
"Because you can't experience everything, you have to connect to other people, their experiences and their knowledge," Duin said. "The bottom line is that knowledge is distributed across networks and learning has become the ability to construct and navigate these networks." 
According to Duin the ability to use visualization and other technology in developing these networks allows individuals to be more intentional in the way they connect and who they connect with.
Duin demonstrated how the construction of active learning classrooms like those at the University can transform each student's ability to develop a learning network. 
UD's recently built PBL classrooms (Interdisciplinary Science and Engineering Building, Gore 218, Memorial 110, among others) contain modular furniture and technology that allows each student to display information from his or her computer or tablet, allowing each person to be a contributor to the "table-based network," contributing to the development of a problem solving team. 
She explained that students develop rotational leadership in this environment because there is no physically demonstrated hierarchy, allowing each student to lead when his or her strengths or knowledge are needed by the group.
After the keynote, participants returned to in-depth sessions that gave them additional tools to create this type of collaborative student interaction in their own classrooms. 
"I like the workshops that offer ideas for engaging that I had not thought of before. Like making a 3D model — I do not teach engineers, but there is certainly something in my discipline that would be on the same level," one participant said. 
Information about follow-up sessions to the EEE 2015 workshop will be posted to the ITUE and Faculty Commons websites later this semester.
Article by Lauren Elise Maxfield
Photo by Kathy F. Atkinson