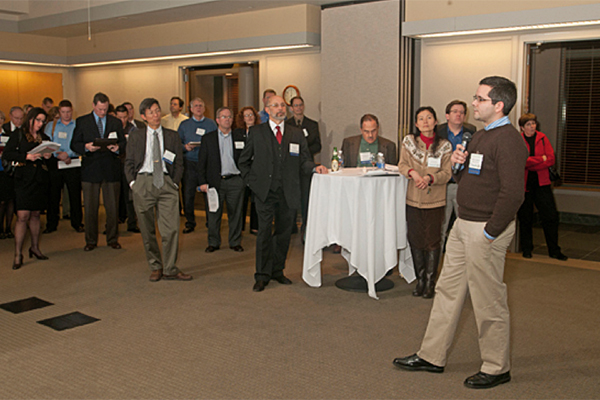 Find partners at DBI
2015 Bioscience CAT Connect to promote academic, industry partnerships
10:55 a.m., Feb. 23, 2015--With support from the Delaware Economic Development Office, the Delaware Biotechnology Institute (DBI) has announced the launch of the 2015 Delaware Bioscience Center for Advanced Technology (Bioscience CAT) program.
Through the Bioscience CAT program, a single academic principal investigator may request up to $50,000 for their academic/industry partnership project and multi-academic principal investigator proposals may request up to $75,000.
Chronic wounds
UD's Millicent Sullivan and Kristi Kiick have received a $1.4 million grant from the National Institutes of Health for research that could provide a new approach to the treatment of chronic wounds.
Prof. Heck's legacy
The American Chemical Society is highlighting the legacy of the late Nobel laureate Richard Heck, the Willis F. Harrington Professor Emeritus of Chemistry at the University of Delaware with a digital tribute on its publications website.
To kick things off DBI will host a Bioscience CAT Connect event on Thursday, Feb. 26, from 5:30-7:30 p.m. There is an open invitation for academic principal investigators and industry representatives in the life sciences to give a one minute one slide presentation at the event. Those who make presentations are not required to attend the event and/or submit for the grant, though it is encouraged as it is an opportunity to identify a potential partner for faculty who do not have one.
Registration for the Bioscience CAT Connect is currently open at this website. Deadline for registration and presentation submissions is noon, Wednesday, Feb 25.
Proposals for the grants are now being accepted for life science research projects from faculty and principal investigators working in any of Delaware's academic research institutions, including:
University of Delaware
Delaware State University
Wesley College
Delaware Technical Community college
Nemours Research Foundation/Alfred I. duPont Hospital for Children
Christiana Care Health System
To date, grants have been awarded to 13 principal investigators working on research in various disciplines to support and solve problems of global significance.
About CAT
The Bioscience CAT's mission is to support and grow Delaware's economy and bioscience community by fostering innovative applied research collaborations between Delaware businesses and academic institutions. For more information, see the website.