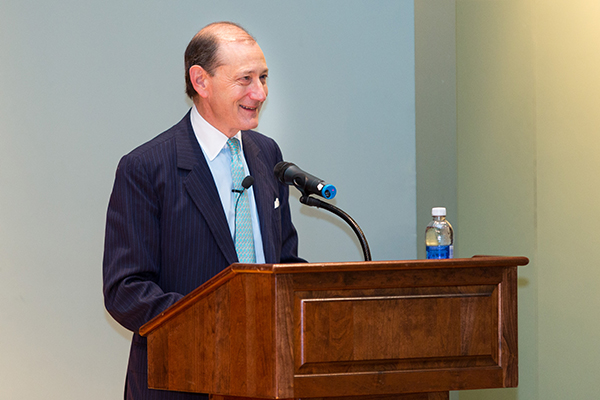 March 17: Corporate governance symposium
Crucial corporate governance topics focus of presentations, panel discussions
2:53 p.m., Feb. 19, 2015--The John L. Weinberg Center for Corporate Governance in the University of Delaware's Alfred Lerner College of Business and Economics will host the 2015 Corporate Governance Symposium on Tuesday, March 17.
This program will provide attendees with cutting-edge governance discussion and debate.
June 5: Blue Hen 5K
University of Delaware graduates planning to attend Alumni Weekend are encouraged to register for the annual Blue Hen 5K walk and run, which will be held Sunday morning, June 5.
June 6-9: Food and culture series
The 20th annual June Lecture Series at the Osher Lifelong Learning Institute at UD in Wilmington will be held June 6-9. Titled 'June a la Carte,' this year's program focuses on great political documents, feminism, world politics and a Newark cuisine sampler.
The symposium will begin with a panel of institutional investors, proxy advisory firms, proxy solicitors, representatives from the corporate and investor communities and the Delaware judiciary, during which each panelist will share what matters most to them.
The panel will include:
Glenn Booraem, principal and fund controller, Vanguard
Donna Dabney, executive director, Governance Center, The Conference Board
Jon Lukomnik, executive director, IRRC Institute
Robert M. McCormick, chief policy officer, Glass Lewis & Co.
Patrick S. McGurn, special counsel, Institutional Shareholder Services (ISS)
Allie Rutherford, principal, CamberView Partners, LLC
Linda E. Scott, senior vice president and associate corporate secretary, JPMorgan Chase & Co.
William Ultan, senior managing director, Morrow & Co., LLC
Karen L. Valihura, justice, Delaware Supreme Court
Moderator will be Charles Elson, Edgar S. Woolard, Jr. Chair of Corporate Governance, director of the Weinberg Center and professor of finance.
The symposium will also include presentations of four academic papers on topics that are currently of critical importance to institutional investors.
The following academic papers will be presented:
"Understanding Director Elections: Determinants and Consequences," by Yonca Ertimer, University of Colorado at Boulder; Fabrizio Ferri, Columbia University; and David Oesch, University of Zurich.
"A Corporate Culture Channel: How Increased Shareholder Governance Reduces Firm Value," by Jillian Popadak, Fuqua School of Business, Duke University.
"Board Groupthink," by Jeffrey L. Coles, David Eccles School of Business, University of Utah; Naveen D. Daniel, LeBow College of Business, Drexel University; and Lalitha Naveen, Fox School of Business, Temple University.
"Growth through Rigidity: An Explanation for the Rise in CEO Pay," by Kelly Shue, Booth School of Business, University of Chicago, and Richard Townsend, Tuck School of Business, Dartmouth College.
To read abstracts of these papers, visit the Weinberg Center's website here.
Space is limited, so register here by March 3. 
After registering, attendees will receive materials in advance of the program. Delaware CLE credits will be provided.
There is no charge for the program, which takes place in room 125 of Clayton Hall from 9 a.m. to 4 p.m. A complimentary lunch is included.
Photo by Kevin Quinlan