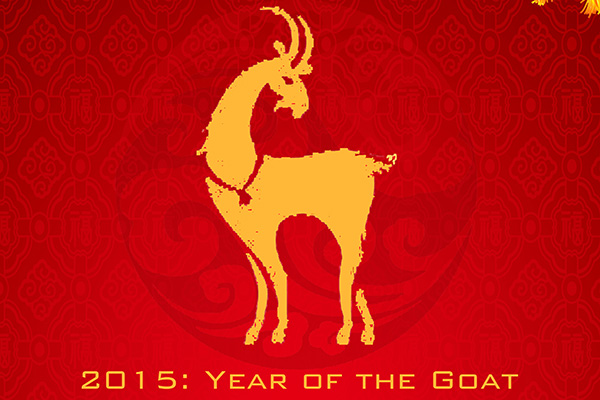 Feb. 22: Chinese New Year celebration
UD Chinese New Year celebration to mark Year of the Ram
10:02 a.m., Feb. 16, 2015--The Confucius Institute and the Chinese Students and Scholars Association invite the University of Delaware campus community and the public to a special celebration of the Chinese New Year — the Year of the Ram 2015 — at 6:30 p.m., Sunday, Feb. 22, in Mitchell Hall on UD's Newark campus.
The Chinese New Year is the longest and also most important of the traditional Chinese holidays. In China, it is known as the Spring Festival, the literal translation of its Chinese name "Chun Jie," and is celebrated for 15 days ending with the Lantern Festival according to the Chinese calendar. 
Fulbright awards
Three University of Delaware students and an alumna have received word this spring that they will travel abroad as part of the newest class of Fulbright Student Program award winners.
Peace Corps plans
Two University of Delaware students, John McCarron and Bridgette Spritz, have been selected as Peace Corps volunteers and will serve in Ghana and Rwanda.
This year the Chinese New Year falls on Feb. 19 to start the Year of Ram in accordance with the Chinese zodiac.
On Sunday, an evening of traditional and modern Chinese New Year festivities will be presented in Mitchell Hall.
The celebration will feature various art performances including traditional Chinese singing, folk and pop dances, musical instruments, Chinese Crosstalk, (Xiangsheng), martial arts and professional Peking Opera performances. 
Performers from the local communities will also present Chinese ethnic and dynasty fashion show. 
UD's award-winning a cappella group Vocal Point will be one of the highlights of the celebration.
Tickets will be available online starting at noon, Monday, Feb. 16, at this website. Prices vary at $15, $10 and $5 per person. An online booking processing fee may apply.
Tickets also will be available from noon-1 p.m., Tuesday, Feb. 17, and Thursday, Feb. 19, at the Trabant University Center. A limited number of tickets will be available at the door.
During the Chinese Spring Festival season, the Confucius Institute will be organizing several celebration events in collaboration with campus and local schools and communities.
On Saturday, Feb. 21, from 2-4 p.m. in John Dickinson High School, the Confucius Institute will co-organize the community Chinese Spring Festival Gala with the Delaware Chinese American Association. The event is free and open to the public. 
On Sunday, Feb. 22, from 2-4:30 p.m. in the Education and Humanities Theatre at Delaware State University, the Confucius Institute will co-organize the Greater Dover Chinese New Year Gala with Delaware State University.
For more information, contact the Confucius Institute at UD at 302-831-7188/7190 or the Chinese Students and Scholars Association at 302-359-6509 or via email at udcssahr@gmail.com. 
For a flyer about the event, click here.