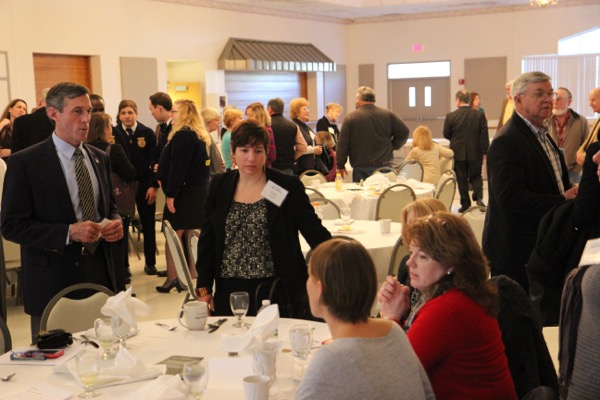 Friends of Ag
10th annual Delaware Agriculture Week concludes with breakfast event
9:05 a.m., Feb. 3, 2015--The 10th annual Delaware Agriculture Week, a celebration of an industry vital to the state's economy, wrapped up on Jan. 16 with the Friends of Ag Breakfast. 
This year, Delaware Agriculture Week -- held Jan. 12-16 at the Delaware State Fairgrounds in Harrington -- welcomed a record 2,085 visitors to learn best practices and new technologies, expand existing networks and make connections with leading vendors.
'Resilience Engineering'
The University of Delaware's Nii Attoh-Okine recently published a new book with Cambridge University Press, "Resilience Engineering: Models and Analysis."
Reviresco June run
UD ROTC cadets will run from New York City to Miami this month to raise awareness about veterans' affairs.
U.S. Rep. John Carney attended the Friends of Ag Breakfast, saying, "As Delaware's largest industry, agriculture plays a central role in our state's economy. Each year, Ag Week is a great opportunity for all those involved in Delaware's agricultural industry to come together to share information and collaborate on new ways to support and strengthen agriculture in our state. I always look forward to attending events during Ag Week to discuss the challenges facing farmers and to find opportunities to grow Delaware's economy through agriculture."
Cara Cuite, associate research professor in the Department of Human Ecology at Rutgers University Cooperative Extension, was the keynote speaker at this year's breakfast and discussed "GMO's and Public Perception in the 21st Century." 
Cuite spoke about a survey on genetically modified foods that she and two Rutgers colleagues -- William K. Hallman, professor and chair of the Department of Human Ecology, and Xenia Morin, associate dean and liaison for sponsored programs -- conducted in fall 2013. 
She began by explaining how people have been working to improve plant and animal species through techniques such as selective breeding and crossbreeding for much of human history. 
"However, genetic engineering is different from this. Genetic engineering allows scientists to select specific genetic traits from one organism and insert them into the genetic code of another organism," said Cuite. 
The results of the survey found that for many people, opinions about genetically modified foods are not strongly held, and that many people base their opinions on feelings and that opinions change as they learn more specifics. 
Cuite's group concluded that how the genetic modifications are referenced -- whether as GMOs, genetically modified foods, genetically engineered foods or agriculture biotechnology -- makes a big difference in how people respond. 
"We've done research that finds people respond differently to different terms. 'Agriculture biotechnology' people seem to like better than 'genetic engineering,' so it really matters what we call it. And we know that most of the world uses the term 'genetic modification' and uses 'GMOs' to describe the product of this process," she said. 
Cuite said the group found that out of all the terms, the one most frequently searched online was GMO. 
"GMO is clearly what most people are thinking about and searching for when they are thinking about this issue," said Cuite. 
National award
At the breakfast, Dave Marvel, a grain and vegetable farmer from Harrington and the vice president of the Fruit and Vegetable Growers Association of Delaware, was recognized with the 2014 National Epsilon Sigma Phi Friend of Extension Award.
Susan Garey, a Delaware extension agent, presented Marvel with the award and talked about how he was instrumental in "working with UD Cooperative Extension to establish a Produce Food Safety (GAP/GHP) training program for Delaware growers and has helped us receive over $45,000 in grants to support Produce Food Safety programs."  
On receiving the award, Marvel thanked Cooperative Extension, saying, "Cooperative Extension touches our lives in a lot of ways that we don't realize. When it comes to food, to health, to agriculture, to people, to animals and plants, Cooperative Extension plays a role in it to better the lives of Delawareans." 
About Delaware Agriculture Week
Delaware Agriculture Week provided numerous sessions that covered a wide array of topics including small fruits, fresh market and processing vegetables, small flock and commercial poultry, grain marketing, grain crops, hay and pasture, beef cattle, irrigation, direct marketing, and much more. Nutrient management, pesticide, and certified crop adviser continuing education credits were offered. 
Agriculture is an $8 billion industry in Delaware, according to a 2010 University of Delaware report, which factored in the agriculture jobs and related production, goods and services that support the largest industry in the First State.
Delaware Agriculture Week is sponsored by University of Delaware Cooperative Extension, Delaware State University Cooperative Extension and the Delaware Department of Agriculture.