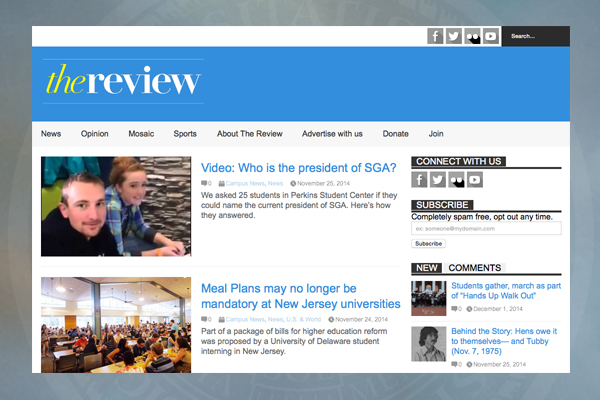 Pacemaker Award
Student newspaper 'The Review' wins national recognition for online publication
10:46 a.m., Dec. 3, 2014--The University of Delaware's student newspaper, The Review, has won a prestigious Online Pacemaker Award from the Associated Collegiate Press (ACP) for its recently redesigned website.
The Review was one of three student newspapers in its category — for institutions with enrollments between 10,001-20,000 students — to win a 2014 Online Pacemaker, along with newspapers at California Polytechnic State and Syracuse universities. ACP also gave Online Pacemaker awards for online-only publications and for magazines; The Review also publishes a print edition.
National Medal of Science
President Barack Obama recently presented the National Medal of Science to University of Delaware alumnus Rakesh Jain.
Warren Award
Rosalind Johnson, assistant dean for student success in the NUCLEUS Program in UD's College of Arts and Sciences, was presented the John Warren Excellence in Leadership and Service Award during a May 26 ceremony.
"It's an honor to receive a Pacemaker, especially because it's for our website, which we just redesigned last spring," said Elizabeth Quartararo, editor-in-chief of The Review. "It's very exciting to have won the award so soon after the launch of the new site, and it's really a testament to how hard the staff works and how willing the group was to try something new for the betterment of the paper and the benefit of our readers."
The website, which was designed to be more user-friendly than the previous version, has attracted more reader interaction through comments and social media, she said.
Pacemaker awards, which began in 1927 and are now co-sponsored by the ACP and the Newspaper Association of America Foundation, are the ACP's highest honor. Winners of the Online Pacemaker are selected based on judges' assessment of the design, ease of navigation, writing and editing, graphics and interactivity of a website that is produced and maintained primarily by students.
"The Department of English is fortunate to have such a strong relationship with the journalism minor, and we were pleased to be able to contribute to the support needed for this project," department chair John Ernest said of the website redesign. "It's wonderful to see our world-class student journalists get the recognition they deserve."
The English department includes the journalism program, which is open to students from all majors across the University. The journalism program is designed to introduce students to multimedia reporting, writing and editing and offers specialized classes in such areas as sports, medical and environmental writing. 
The Review is an independent newspaper, but many journalism students work as writers or editors on its staff and are encouraged to gain hands-on experience there. During the academic year, the paper publishes a weekly print edition, which is distributed free on and near campus, and provides daily updates online.
Article by Ann Manser