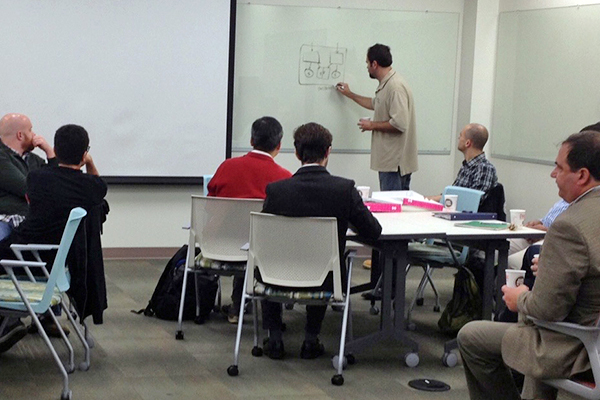 Upcoming research computing events
High-Performance Computing Symposium, introductory UNIX classes begin in January
8:42 a.m., Dec. 19, 2014--University of Delaware Information Technologies (IT) has announced a symposium series for those researchers using or interested in using the University's High-Performance Computing (HPC) clusters. In addition, IT will offer a short course about using the UNIX operating system in January.
Researchers using UD's two HPC community clusters, Mills and Farber, have requested more frequent meetings to share information with each other and to discuss use of the clusters with IT staff. The HPC Symposium sessions will be held on the fourth Wednesday of each semester or term.
Chronic wounds
UD's Millicent Sullivan and Kristi Kiick have received a $1.4 million grant from the National Institutes of Health for research that could provide a new approach to the treatment of chronic wounds.
Prof. Heck's legacy
The American Chemical Society is highlighting the legacy of the late Nobel laureate Richard Heck, the Willis F. Harrington Professor Emeritus of Chemistry at the University of Delaware with a digital tribute on its publications website.
The dates for the 2015 HPC Symposium sessions are as follows:
Wednesday, Jan. 28, 2015,
Wednesday, Feb. 25, 2015,
Wednesday, Jun. 24, 2015, and
Wednesday, Sep. 23, 2015.
All symposium sessions will be held from 10 a.m. to noon in Faculty Commons (116 Pearson Hall). Each session will begin with an invited talk by a University research group about what they are accomplishing on the Mills or Farber clusters and conclude with an open forum for researchers and IT staff.
For more information about the HPC Symposium, visit the Research Computing website.
In addition, researchers can sign up for a series of UNIX basics sessions scheduled for Thursday mornings (10-11:30 a.m.) and Tuesday afternoons (1:30-3 p.m.). For more information about these classes, or to register, visit the LearnIT@UD training calendar.
For more information, visit UD's Research Computing website or send email to hpc-interest@udel.edu.