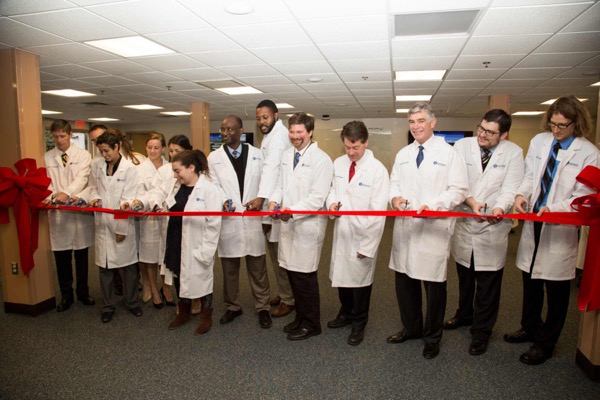 CANR cuts ribbon
Center for Experimental and Applied Economics opens at Townsend Hall
8:28 a.m., Dec. 18, 2014--When Dean Mark Rieger arrived on the University of Delaware campus in 2012, one of his first priorities at the helm of the College of Agriculture and Natural Resources was to establish a state-of-the-art research center for applied economics.
Roughly two years later, UD President Patrick Harker, Charles G. Riordan, deputy provost for research and scholarship, Kent Messer, Unidel Howard Cosgrove Chair for the Environment in the Department of Applied Economics and Statistics, and CANR faculty and staff were on hand to see the realization of Rieger's vision at the opening of the Center for Experimental and Applied Economics (CEAE) held recently in Townsend Hall.
Chronic wounds
UD's Millicent Sullivan and Kristi Kiick have received a $1.4 million grant from the National Institutes of Health for research that could provide a new approach to the treatment of chronic wounds.
Prof. Heck's legacy
The American Chemical Society is highlighting the legacy of the late Nobel laureate Richard Heck, the Willis F. Harrington Professor Emeritus of Chemistry at the University of Delaware with a digital tribute on its publications website.
"Two years ago I knew we had the talent on campus that warranted a place of its own to house exciting research in applied economics," said Rieger. "We just needed to find the space; it really pleases me that we're here today to see that search come to fruition. We're poised for future success through this great center."
Dressed in personally embroidered white lab coats, 14 University officials, faculty members and undergraduate and graduate students, all with scissors in hand, cut the ceremonial ribbon, officially opening the center.
"I'm very happy to be here today because this event marks the culmination of a lot of hard work," said Harker in his opening remarks to an audience of about 75 University members and special guests. "It's centers like this that allow students to further their education while making the theory-to-practice connection."
Some of the collaborative research efforts on display during the center's opening included studies on improving water quality in the Northeast, research on oyster aquaculture in Delaware, and a study on cost-effective provision of ecosystem services through land conservation.
Located on the ground floor of Townsend Hall, the CEAE was formerly known as the Experimental Econ Lab and inhabited a very small area behind the CANR library.  The $300,000 remodel, funded in part by grants from the National Science Foundation, helped to expand the modest lab that had been established in 2007.
"Our old lab was windowless, small and basic. It could have easily been mistaken as a fallout shelter," said Messer. "Dean Rieger made the commitment in 2012 to take our lab to the next level. What we have now will allow us to expand and enhance our activities and research."
In addition to hosting research, the center will also serve as headquarters for the Center for Behavioral and Experimental Agri-Environmental Research (CBEAR), a U.S. Department of Agriculture (USDA) consortium that partners UD with faculty at Georgia State University, Cornell University, the University of Chicago, Williams College, Albany State University, Ohio State University, the University of Rhode Island, the University of Tennessee and Tufts University.
A $750,000, three-year USDA grant was awarded to Messer and his collaborators at the aforementioned institutions, and will help fund the work of CEAE. 
Dan Hellerstein, agricultural economist with USDA, was on hand direct from Washington, D.C., and stressed the importance of the opening of the center.
"This consortium of universities won the competition that we held for the $750,000 grant, because they had the best application that laid out their ideas to engage in evidence-based research," said Hellerstein. "The purpose is to use their findings to create better agri-environmental policy for all those involved. Before, during and after each experiment and field study, these researchers will talk to USDA policy types to make the most out of this three-year partnership."
Mike McGrath, assistant secretary of the Philadelphia Society for Promoting Agriculture, and CBEAR authority, said the center will help to improve USDA programs, both environmental and economical, and improve communication between the USDA and the farmers themselves.
"No matter what their product – livestock, grain, dairy, fruit and vegetables – farmers would be better served by more economical and environmentally conscious programs and methods," McGrath said. "The goal of CBEAR is to research and develop those programs through the USDA and educate the farmers."
Messer stated that CBEAR is essentially a "center within a center" as it pertains to CEAE, but further expanded on how the two will work together, saying, "Government programs related to agriculture and the environment need to be based on strong science and economics. Evidence-based policy, insights from the behavioral sciences, and randomized controlled trials are the norm in medicine, education, and other policy fields. CBEAR will bring this approach to U.S. agri-environmental policy."
Article by Robert Kalesse
Photo by Lindsay Yeager