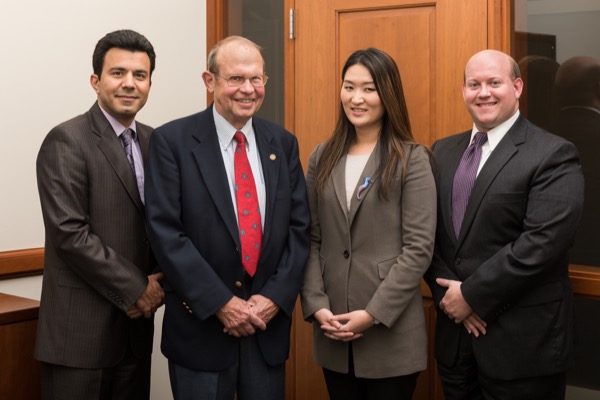 CAPSIM international placement
MBA students' simulated business places in world's top five percent
3:42 p.m., Dec. 1, 2014--This week a team of University of Delaware students placed in the top five percent of international teams participating in the CAPSIM Challenge. 
The CAPSIM Challenge asks students to create a simulated company over the course of eight "years" (or rounds). During each round teams make decisions that influence their companies' futures.
National Medal of Science
President Barack Obama recently presented the National Medal of Science to University of Delaware alumnus Rakesh Jain.
Warren Award
Rosalind Johnson, assistant dean for student success in the NUCLEUS Program in UD's College of Arts and Sciences, was presented the John Warren Excellence in Leadership and Service Award during a May 26 ceremony.
UD MBA students Jack Evans, Amir Sedidh Haghighat and Jiyeon Kim competed in the CAPSIM Challenge as part of instructor Scott Wycoff's corporate strategy course. The group led their simulated company, a sensor manufacturer, to 15th place out of 274 international teams.
"We were successful because our strategy was sound," said Evans. "We focused early in the rounds on lowering cost so we could compete on price to win market share. We also invested heavily in marketing to ensure our products had good market awareness and accessibility."
Evans said that his team focused on markets that other companies abandoned so that they could dominate those market shares.
"Our overall strategy was to be a low cost differentiators encompassing all segments and dominating market share through price and cost reductions," he said. 
Evans added that his team learned some valuable lessons about how to work effectively in groups.
"I definitely think you can apply this simulation to real life and work," he said. "The simulation takes determination and strategy to follow your set objective while being flexible to adapt to unforeseen changes. Flexibility and being able to deal with change are essential for being successful in today's work environment."
Article by Sunny Rosen
Photo by Evan Krape