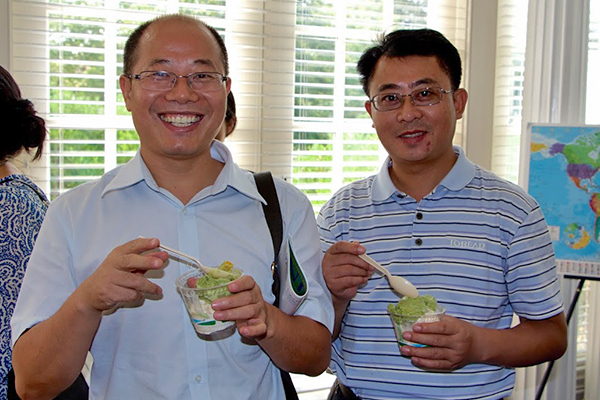 Xiamen visit
Administrators, students from China's Xiamen University spend time at UD
9:42 a.m., Aug. 12, 2014--More than 60 administrators and students from China's Xiamen University are visiting the University of Delaware to take business, English and administrative classes as well as gain a deeper understanding of the American higher education system and culture.
Xiamen and UD continue to deepen their relationship and collaborative efforts through exchange programs including the two on UD's campus this summer. 
Fulbright awards
Three University of Delaware students and an alumna have received word this spring that they will travel abroad as part of the newest class of Fulbright Student Program award winners.
Peace Corps plans
Two University of Delaware students, John McCarron and Bridgette Spritz, have been selected as Peace Corps volunteers and will serve in Ghana and Rwanda.
Xiamen administrators
This year is the third year of the administration exchange program and features the largest group yet. During their visit, organized by the Confucius Institute at UD, 39 administrators are living with local families and taking English language classes taught by the English Language Institute, and will gain a deeper understanding of the management and structure of an American university during the four-week program. 
Xiamen visitors will be learning how UD runs and operates by taking classes on topics such as university management, financial services, human resources, undergraduate and graduate admissions, alumni relations and development, the role of the Faculty Senate, and more. 
Representatives from many Xiamen colleges and departments were chosen to participate in the exchange. The program aims to foster scholarly and institutional cooperation on global initiatives and further strengthen the growing connections between the institutions.
Xiamen students
Twenty-one students, four faculty members and one translator from Xiamen are taking marketing and finance classes and immersing themselves in American culture for a two-week program at UD before traveling along the East Coast.
In April, administrators from UD visited Xiamen University in China to discuss ways to further partner in cross-cultural education. Rick Andrews, deputy dean of the Alfred Lerner College of Business and Economics traveled with the group and signed one agreement while in China. Since returning, Lerner College has signed two more agreements for both undergraduate and graduate exchange programs including a 2-plus-2 dual degree, a master of business administration program and a master of science in accounting program.
"I know how much I valued my time in China. I am excited to see exchange programs expand, opening doors for both American and Chinese students," said Andrews.
Students are learning about business in the U.S., experiencing how an American university class is taught, and gaining first-hand knowledge about American culture. The group enjoyed exploring Main Street and going to a Blue Rocks baseball game, and members are looking forward to other excursions including a visit to Longwood Gardens and the Herr's snack food factory.
Although the two groups are participating in separate programs, they did spend time together at the Wright House, the hub for international, global and graduate activities on campus, for an ice cream social. 
UD and Xiamen continue to expand and deepen their relationship. Along with the Lerner College, Xiamen has a collaborative agreement with the College of Earth, Ocean, and Environment. These agreements involve teaching, research, faculty and student exchanges, and give students, faculty and administrators global experiences and a platform to work closely together to broadened international perspective and foster for further agreements. 
Article by Elizabeth Adams