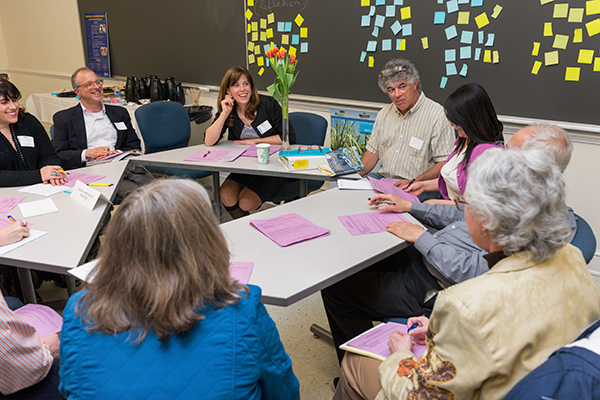 First Friday Roundtable
First Friday Roundtable on Teaching scheduled Sept. 5 in Gore Hall
10:34 a.m., Aug. 28, 2014--The First Friday Roundtable on Teaching, a collaborative University of Delaware program aimed at highlighting varied approaches of teaching, learning and assessment practices, will hold its first event for this fall on Friday, Sept. 5.
This semester's series will focus on teaching increasingly larger classes. However, topics will still be useful and interesting to all UD instructors so everyone who teaches UD students -- faculty, staff and graduate students -- is urged to attend.
June 6: UDid It! Picnic
All UD faculty and staff members are invited to attend the annual UDid It! employee appreciation picnic, set from 11 a.m.-1:30 p.m., Monday, June 6, on The Green.
2FA protects you
If you are using two-factor authentication (2FA), even if a hacker has your password, your information is probably safe.
The first roundtable session, titled "Crafting Effective Presentations, Lectures, and Talks," will be held from 3:30-5 p.m. in 208 Gore Hall.
This is a follow-up workshop to the well-received Summer Faculty Institute presentation by Christy Price of Dalton State University titled "Averting Death by Academic PowerPoint." The video recording of that presentation is available online.
Participants will build upon the cognitive and education psychology research presented in that session and explore specific techniques instructors can apply to their presentations, lectures and talks. Participants will also focus on methods that ensure lectures are more likely to be a memorable learning experience.
Lynn Worden, assistant professor in the Department of Human Development and Family Studies, will share recent work she has done with her class presentations. Discussion and activities will further develop ideas related to presentation design, student attention and engagement and retention of information. 
Participants are encouraged to bring a laptop computer to re-design one of their own presentations.
Registration for the event can be found online.
A second session of the series is scheduled for Oct. 10, from 3:30-5:30 p.m., also in 208 Gore Hall. It will be about "Asking Questions that Encourage Critical Thinking in Large Classes." This roundtable will focus on how instructors can effectively ask questions that help students develop and demonstrate critical thinking skills. Register online.
The third session for this semester, "Creating Assignments and Providing Student Feedback in Large Classes," is scheduled for Nov. 7, 3:30-5:30 p.m., 208 Gore Hall. During this roundtable, the topic will focus on how instructors can effectively create assignments and provide feedback to students in large classes. Register online.
The First Friday roundtables are designed and sponsored through a collaboration of IT Academic Technology Services, the Institute for Transforming Undergraduate Education and the Center for Teaching and Assessment of Learning.