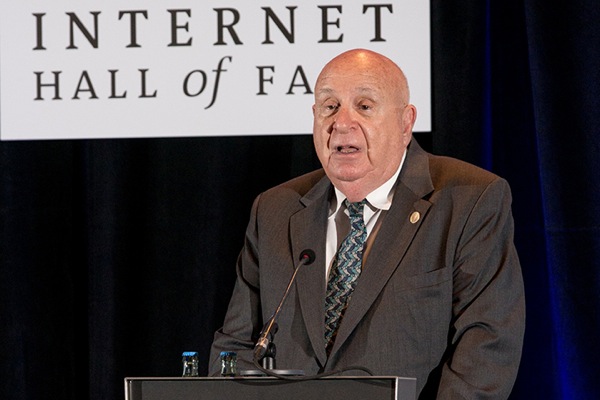 Farber computing cluster
New research computing cluster named for UD professor, Internet pioneer
10:17 a.m., Aug. 20, 2014--Building on the success of the Mills High-Performance Computing (HPC) cluster, the University of Delaware is deploying a second community cluster to perform complex computational tasks for researchers in engineering, in physical, natural, social, policy and decision sciences, and in finance.
The new cluster has been named Farber in honor of David Farber, UD professor and Distinguished Policy Fellow in the Department of Electrical and Computer Engineering. 
Chronic wounds
UD's Millicent Sullivan and Kristi Kiick have received a $1.4 million grant from the National Institutes of Health for research that could provide a new approach to the treatment of chronic wounds.
Prof. Heck's legacy
The American Chemical Society is highlighting the legacy of the late Nobel laureate Richard Heck, the Willis F. Harrington Professor Emeritus of Chemistry at the University of Delaware with a digital tribute on its publications website.
Farber was one of the innovators of the early Internet and its subsequent development into today's modern Internet. 
About David Farber
Farber has had a renowned career, including two intervals as a UD faculty member, from 1977-88 and from 2011 to present. 
Farber is one of the pioneers who helped develop the U.S. Department of Defense's ARPANET into the modern Internet. His work on CSNET, a network linking computer science departments across the globe, was a key step between the ARPANET and today's Internet.
He left UD to become the Alfred Fitler Moore Professor of Telecommunication Systems at the Moore School and professor of public policy at the Wharton School at the University of Pennsylvania. 
Farber also served as the chief technologist at the Federal Communications Commission (FCC) from 1999–2000 and as Distinguished Career Professor of Computer Science and Public Policy at Carnegie Mellon University.
Today, Farber's work focuses on the translation of technology and economics into policy, the impact of multi-terabit communications, and new computer architecture innovations on future Internet protocols and architectures. He was named to the Internet Society's board of trustees in 2012.
"The University of Delaware is proud to name its new computing cluster in honor of Prof. David Farber, whose work and contributions to computing have helped develop the Internet as we know it," said Carl Jacobson, vice president for information technologies (IT).
Benefits of HPC
The Farber cluster will give more UD researchers access to HPC resources and will provide faculty with faster compute nodes and more storage than is available on Mills.
The University uses community-cluster architecture for HPC systems. Periodically, IT staff work with University faculty to develop the specifications for an HPC cluster, with the purchase financed both by IT (cluster infrastructure, storage, and networking) and by individual faculty researchers (individual compute nodes).
The community cluster model is advantageous for researchers, allowing them priority access to high performance computing power while sparing them the ongoing financial liability of purchasing and running their own computing clusters.
Compute nodes are still available for purchase in UD's Farber HPC cluster. See IT's information about the new cluster for details.
For any questions or to inquire about purchasing compute nodes, send email to it-hpc-interest@udel.edu.