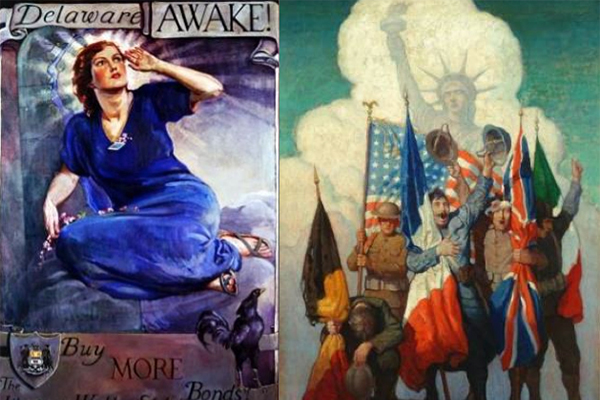 Sept. 3-Dec. 7: 'Delaware Awake!'
Old College West Gallery hosts exhibition on World War I
1:16 p.m., Aug. 20, 2014--A new exhibition titled "Delaware Awake! World War I at Home and Abroad" will run from Sept. 3 through Dec. 7 at the University of Delaware's Old College West Gallery.
Through a selection including posters, drawings, and correspondence reflecting multiple perspectives, this exhibition places the experiences of Delawareans at home into dialogue with events on the front lines. 
June 5: Blue Hen 5K
University of Delaware graduates planning to attend Alumni Weekend are encouraged to register for the annual Blue Hen 5K walk and run, which will be held Sunday morning, June 5.
June 6-9: Food and culture series
The 20th annual June Lecture Series at the Osher Lifelong Learning Institute at UD in Wilmington will be held June 6-9. Titled 'June a la Carte,' this year's program focuses on great political documents, feminism, world politics and a Newark cuisine sampler.
Works by such American artists as Joseph Pennell and John Singer Sargent and such European artists as Käthe Kollwitz and László Moholy-Nagy illustrate the creative reactions of men and women grappling with the implications of international conflict on an unprecedented scale. 
A series of photographs chronicles the construction of UD's Memorial Hall, built to commemorate the state's World War I fallen.
In addition to works from the collection, objects on display are drawn from the Delaware Art Museum, Winterthur, the Mark Samuels Lasner Collection, Special Collections at the University of Delaware Library, and University Archives and Record Management.
Part of a University-wide initiative to mark the centennial of the outbreak of the war, this exhibition complements the Center for Material Culture Studies' symposium "Survivor Objects: The Material Culture of Memory" to be held Nov. 14-15 and the fall semester colloquium series "The Material Culture of War."
'Delaware Awake!' programming
Thursday, Oct. 23, 12:30-1:15 p.m. Perspective, Camara Holloway, assistant professor of art history, Old College Gallery.
Saturday, Nov. 1. Symposium, "Remembering the Great War." For details and registration information, visit the UD alumni website or contact the Office of Alumni Relations at 302-831-2341.
Tuesday, Nov. 11, 12:30-1:15 p.m. Perspective, Robin Schulze, professor of English and associate dean of the College of Arts and Sciences, Old College Gallery.