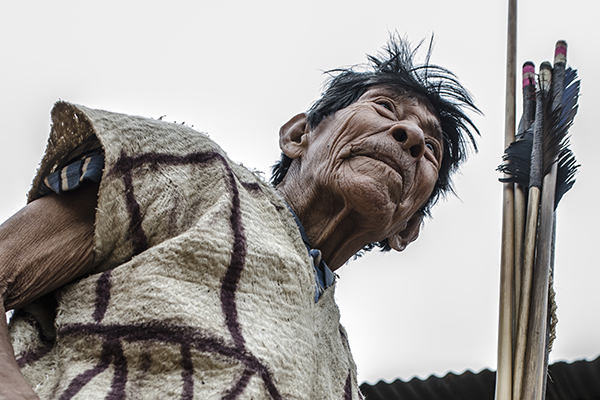 Mapping a culture
Interdisciplinary project documents indigenous hunter-gatherers in Peru
3:52 p.m., Aug. 15, 2014--A cultural mapping project by University of Delaware students, faculty and partners, focusing on the Ese'Eja Nation -- a hunting, gathering and fishing people living in the Amazonian region of Peru -- has created a video documenting some of the indigenous people's daily lives.
Supported by grants from the National Geographic Genographic Legacy Fund and UD's Interdisciplinary Humanities Research Center, Institute for Global Studies and Office of Undergraduate Research and Experiential Learning, "The Ancestral Lands of the Ese'Eja -- The True People" can be viewed here.
Fulbright awards
Three University of Delaware students and an alumna have received word this spring that they will travel abroad as part of the newest class of Fulbright Student Program award winners.
Peace Corps plans
Two University of Delaware students, John McCarron and Bridgette Spritz, have been selected as Peace Corps volunteers and will serve in Ghana and Rwanda.
The video is the most recent product of a collaborative project and expedition to Peru in May and June to explore the lives and culture of the Ese'Eja, a community of three distinct villages living in the remote areas of Infierno, Palma Real and Sonene, Peru. The expedition included four UD students and faculty members Jon Cox, assistant professor of art; Carla Guerrón Montero, associate professor of anthropology; and Rosalie Rolón Dow, associate professor of education.
Cox, a photographer, has traveled several times to Peru in recent years, involving University students in various aspects of the work. He previously completed a widely acclaimed cultural mapping project to document and preserve the Hadza hunter-gatherers of Tanzania.
Objectives of the current project include documenting the Ese'Eja lifestyle, creating a community plan and programming education for Ese'Eja schools, surrounding communities and internationally through the Amazon Center for Environmental Education and Research. The Ese'Eja community had already, independently, begun a similar project to preserve its culture. 
An account of the project, titled "The Ese'Eja: From a Cotton Thread in the Sky to Protectors of the Amazon," is available on the National Geographic website.
To sign up to receive news and updates, visit the project's website.
Interdisciplinary teams, including faculty, students and alumni of UD in addition to other partners, worked on the mapping project from February through June. The four students presented the results of their work at the Undergraduate Research and Service Celebratory Symposium, held Thursday, Aug. 14, on campus.
Cultural mapping project participants
The project involved numerous participants, working in teams on various aspects of the final product. They are:
Project managers—Cox and Rocio Martinez, of Rainforest Expeditions in Peru;
UD anthropology team—Guerrón Montero and anthropology student Chelsea Rozanski;
Ethnobotany team—Katherine Koumoutseas, a consultant whose daughter is a UD undergraduate, and UD plant science student Brian Griffiths;
UD education team—Rolón Dow and education student Morgan Lehr; and
Photography/video team—Cox; Andrew Bale, Dickinson College lecturer and a 2005 UD alumnus, with a master's degree in fine arts; Steven Zeigler, a New York City Apple employee and a 2007 UD graduate; and UD visual communications student Lindsay Yeager.
Article by Ann Manser
Photo by Jon Cox