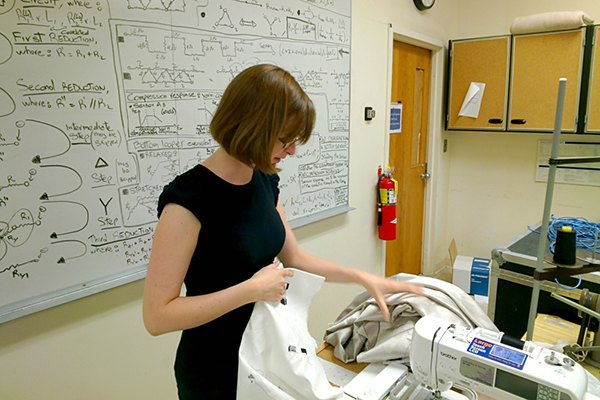 May 7-8: Wearable technology
Presentation and workshop to focus on textile-based electronics
7:58 a.m., April 23, 2015--Lucy Dunne, whose research explores wearable technology, will deliver a presentation and lead an interactive workshop at the University of Delaware on May 7 and 8, hosted by UD's Delaware Design Institute.
On Thursday, May 7, from 4-5 p.m., Dunne will speak on "The Hard and Soft of Wearable Technology" in Room 101 Recitation Hall, where refreshments will be served. She will lead a workshop on the subject from 9-11 a.m., Friday, May 8, in Room 102 Taylor Hall.
June 5: Blue Hen 5K
University of Delaware graduates planning to attend Alumni Weekend are encouraged to register for the annual Blue Hen 5K walk and run, which will be held Sunday morning, June 5.
June 6-9: Food and culture series
The 20th annual June Lecture Series at the Osher Lifelong Learning Institute at UD in Wilmington will be held June 6-9. Titled 'June a la Carte,' this year's program focuses on great political documents, feminism, world politics and a Newark cuisine sampler.
Both events are free and open to the public, but advance registration is required for the workshop. Reserve a space by sending an RSVP to cdelaney@udel.edu.
Dunne is director of the Wearable Technology Lab at the University of Minnesota's College of Design, where she is an associate professor and director of the apparel design program. She also is an affiliate member of the university's graduate faculties of computer science and engineering, electrical and computer engineering, and the Institute for Health Informatics.
Her research is focused on wearability and textile-based wearable technology and explores new functionality in apparel, human-device interface, production and manufacture, and human factors of wearable products.
Dunne has received the National Science Foundation's Faculty Early Career Development Award and the NASA Silver Achievement Medal for her work with functional clothing and wearable technology.
The May 8 workshop at UD will allow participants to interactively explore what happens when electronics meet textiles and the human body. Organizers say the session will "get down to the nuts and bolts (or stitches and resistors) of wearable technology."
The workshop is appropriate for all backgrounds, and materials will be provided.
Questions can be directed to artdepartment@udel.edu.
Photo courtesy University of Minnesota