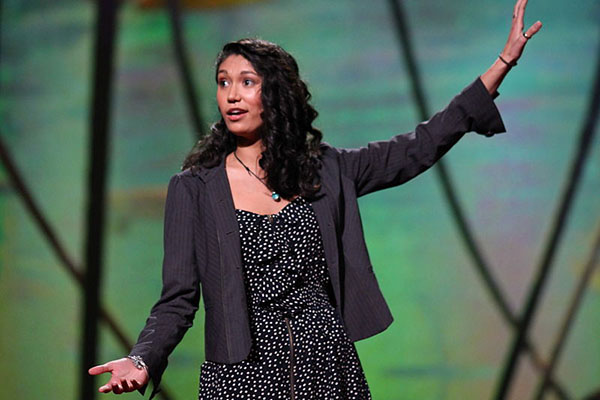 May 4: Spoken-word poet
UD National Residence Hall Honorary to host spoken-word poet Sarah Kay
8:56 a.m., April 9, 2015--The Robert Longwell Grice Chapter of the National Residence Hall Honorary (NRHH) at the University of Delaware will host the spoken-word poet Sarah Kay at 7 p.m., Monday, May 4, in the Pearson Hall auditorium.
Kay is well known for her TED Talks, including "How Many Lives Can You Live?" at TEDxEast: Tinker, Noodle, Obsess in 2011, and "If I Should Have a Daughter" at the TED Conference in Long Beach, California, in March 2011.
June 5: Blue Hen 5K
University of Delaware graduates planning to attend Alumni Weekend are encouraged to register for the annual Blue Hen 5K walk and run, which will be held Sunday morning, June 5.
June 6-9: Food and culture series
The 20th annual June Lecture Series at the Osher Lifelong Learning Institute at UD in Wilmington will be held June 6-9. Titled 'June a la Carte,' this year's program focuses on great political documents, feminism, world politics and a Newark cuisine sampler.
"Sarah Kay serves as a symbol of empowerment and finding one's voice, which can be difficult for students on a large college campus," says William Rehrig, NRHH chapter president. "We're very excited to host our first large-scale campus programming event by bringing an internationally renowned speaker."
SPIT (Stimulating Prose Ideas and Theories), one of the University's registered student organizations, will open the event at 6:30 p.m. SPIT is a student-run slam poetry organization, which offers students a platform to creatively express ideas that matter to them.
"Co-sponsoring this event with our sister organization, the Resident Student Association (RSA), and the Department of English, we are celebrating the power of spoken word, the importance of diversity efforts and the influence of advocacy in our communities," said Rehrig.
Tickets can be purchased at the Trabant University Center box office. Student pricing is $3 in advance and $5 at the door; tickets for faculty and the public are $5 in advance and $7 at the door. Doors open at 5:45 p.m.
To learn more about the event, visit NRHH's Facebook event page or Kay's official website, Facebook and Twitter pages.
More about Sarah Kay
Sarah Kay is a poetry writer and teacher, the founder and co-director of Project VOICE, a best-selling author of the book B, and the author of No Matter the Wreckage. Kay is an editor for Write Bloody Publishing.
More about NRHH
The National Residence Hall Honorary (NRHH) strives to advocate for and support leaders within the residence halls on campus, as well as to partner with other student organizations to provide the campus community with diverse programming opportunities. 
Article by Alexander Waad
Photo by Steve Jürvetson