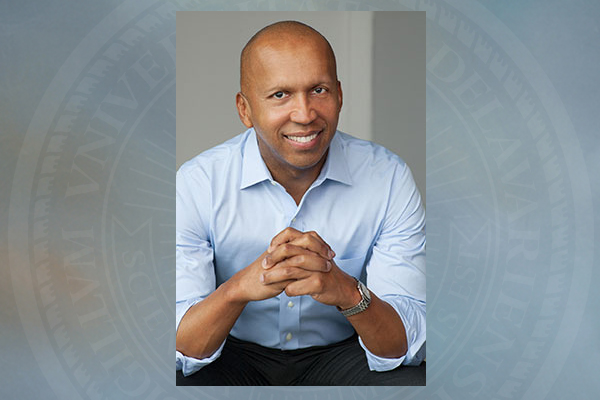 Common Reader
Bryan Stevenson's 'Just Mercy' selected as 2015 First Year Common Reader
12:34 p.m., April 20, 2015--Just Mercy: A Story of Justice and Redemption, a book by Bryan Stevenson, founder and executive director of the Alabama-based Equal Justice Initiative, has been selected for the University of Delaware's 2015 First Year Common Reader program.
Through the program, selected works are read by UD first year students before arriving on campus for the fall semester in conjunction with other events. 
From graduates, faculty
As it neared time for the processional to open the University of Delaware Commencement ceremonies, graduating students and faculty members shared their feelings about what the event means to them.
Doctoral hooding
It was a day of triumph, cheers and collective relief as more than 160 students from 21 nations participated in the University of Delaware's Doctoral Hooding Convocation held Friday morning on The Green.
Published by Spiegel and Grau, Stevenson's book is a powerful true story about the potential for mercy as redemption and a clarion call to fix a broken system of justice. 
Stevenson, who grew up in Milton, Delaware, was a young lawyer when he founded the Equal Justice Initiative, a legal practice dedicated to defending those who need it most – the poor, the wrongly condemned and women and children trapped in the farthest reaches of the American criminal justice system.
The case of Walter McMillian, a young man sentenced to die for a murder he insisted he did not commit, drew Stevenson into a tangle of conspiracy, political machination and legal brinksmanship, and forever transformed his understanding of mercy and justice. 
A graduate of Eastern University, Harvard Law School and the John F. Kennedy School of Government at Harvard, Stevenson has received numerous awards, including the Reebok Human Rights Award, the American Civil Liberties Union National Medal of Liberty, and a MacArthur Fellows Award. He also is the co-recipient of the 2009 Gruber Prize for Justice and earlier this month was named one of Time magazine's 100 most influential people.
In addition to his work with the Equal Justice Initiative, Stevenson is a professor of clinical law at the New York University School of Law.
About the First Year Common Reader
The First Year Common Reader is a unique opportunity for students to engage in a meaningful conversation with fellow students and to begin to share in the intellectual life of the entire UD community. 
The book is read before arriving on campus with speakers, films and other cultural events organized around the theme of the book throughout the first semester.
Previous common readers have included Thank You for Your Service, by David Finkel; My Beloved World, by U.S. Supreme Court Justice Sonia Sotomayor; Behind the Beautiful Forevers: Life, Death and Hope in a Mumbai Undercity, by Katherine Boo; and The Immortal Life of Henrietta Lacks, by Rebecca Skloot.
For more information on the Common Reader, visit the website.
Article by Jerry Rhodes
Photo by Nina Subin