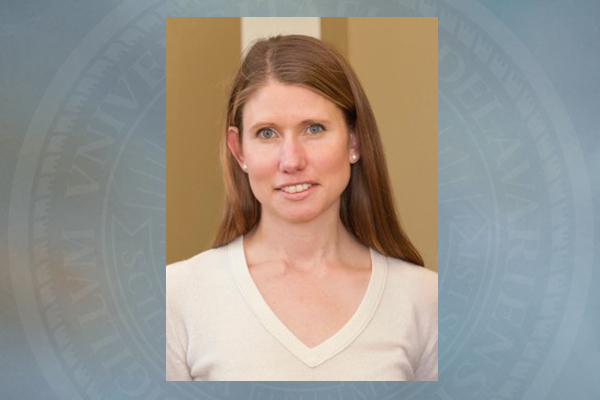 Cottrell Scholar Award
Grimes earns national award to support research, innovative teaching
8:33 a.m., April 7, 2015--Catherine Leimkuhler Grimes is fluent in the science, with all of its bewildering polysyllabic phrases and complicated chemical roadmaps. As an assistant professor in the University of Delaware's Department of Chemistry and Biochemistry, she can sketch out all sorts of things that happen in microscopic environments and asks the kinds of questions that launch significant scientific quests.
Perhaps as impressive -- or maybe even more so -- is her ability to explain her work and ignite interest in those who do not have her background in science. She finds connections to help them understand, even if all they have is a passing familiarity with Legos, the ubiquitous plastic building blocks that generations of kids have grown up with. Using Legos as a model of chemical and biological connections, Grimes was able to help her 10-year-old niece understand some of the science behind her research.
National Medal of Science
President Barack Obama recently presented the National Medal of Science to University of Delaware alumnus Rakesh Jain.
Warren Award
Rosalind Johnson, assistant dean for student success in the NUCLEUS Program in UD's College of Arts and Sciences, was presented the John Warren Excellence in Leadership and Service Award during a May 26 ceremony.
Now the Research Corporation for Science Advancement, founded in 1912, has recognized Grimes' research and pedagogical prowess with its Cottrell Scholar Award, which comes with $75,000 in support.
"Cottrell Scholars are provided with unique opportunities to help them launch and establish truly outstanding careers," RCSA President Robert Shelton said in the foundation's award announcement. "In addition to receiving financial support for research, scholars belong to a community whose members help each other to develop the skills and relationships necessary to become academic leaders."
Grimes' research is focused on bacterial cell walls and the way human cells interact with them. Specifically, she and her research team want to understand how and why the body mistakenly identifies some bacterial cells as enemies --triggering an attack from the immune system -- when, in fact, they are beneficial "commensal" bacteria, the kind that help with digestion, for example.
When the body attacks beneficial bacteria it can produce significant health problems, including such chronic conditions as Crohn's disease.
It is not yet known how the immune system degrades the bacterial cell wall. Grimes hopes to identify the enzyme responsible for that process. To do it, she aims to remodel bacterial cell walls and insert molecular probes to gain a better understanding of how the immune system is triggered.
At the same time that scientific inquiry is underway, she aims to remodel the curriculum in the University's biochemistry laboratories to link techniques and networks used in organic chemistry, biochemistry and molecular biology and promote collaborative work.
"I am passionate about teaching and research," Grimes said. "I want to let my passion for research fuel my teaching. In re-teaching information, I am also strengthening my research program. And that's how it should be. It shouldn't be disconnected. Science should not be done in silos and the same is true for research and teaching."
Grimes' research last year drew national recognition from the Pew Charitable Trusts, which selected her as a Pew Scholar in the Biomedical Sciences.
Article by Beth Miller