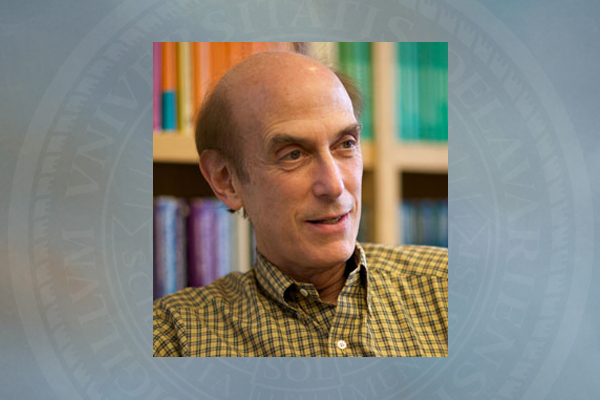 'Metals for Life'
Symposium to honor 2015 Benjamin Franklin Laureate in Chemistry
10:05 a.m., April 10, 2015--The University of Delaware will host "Metals for Life," a symposium honoring Stephen J. Lippard of the Massachusetts Institute of Technology (MIT), recipient of the 2015 Benjamin Franklin Medal in Chemistry, on Thursday, April 23. 
The symposium, set for 8:30 a.m. to noon in the Trabant University Center Theatre, is free and open to the public.  The program and online registration are available at this website. 
Chronic wounds
UD's Millicent Sullivan and Kristi Kiick have received a $1.4 million grant from the National Institutes of Health for research that could provide a new approach to the treatment of chronic wounds.
Prof. Heck's legacy
The American Chemical Society is highlighting the legacy of the late Nobel laureate Richard Heck, the Willis F. Harrington Professor Emeritus of Chemistry at the University of Delaware with a digital tribute on its publications website.
Lippard, who is the Arthur Amos Noyes Professor of Chemistry at MIT, is a pioneer in bioinorganic chemistry, the scientific field that explores the roles that metals play in biology and medicine. 
He and his team have revealed how platinum compounds inhibit tumor growth. These findings have improved chemotherapy drugs for treating testicular, ovarian and some lung cancers. 
"As a founder of bioinorganic chemistry, Stephen Lippard has unveiled a number of critical roles that metals play in living organisms. His work has had a significant impact on human health and is advancing potential new energy solutions. He is always breaking new ground," says Klaus Theopold, professor of chemistry and biochemistry at UD. 
Theopold is a member of the Franklin Institute's Committee on Science and the Arts, the group of scientists who pick the recipients of the Benjamin Franklin Medals in various disciplines. Each laureate has a "sponsor" who prepared and presented the laureate's case for the committee's consideration. Theopold is Lippard's sponsor.
On the energy front, Lippard is examining the structure and function of an enzyme called methane monooxygenase, which allows microbes to live on natural gas. A deeper understanding of this enzyme's function could further the design of catalysts for converting methane, the chief component in natural gas, into liquid fuel.
Lippard is creating yet another field of study called "metalloneurochemistry." He and his team are constructing molecules that can serve as fluorescent sensors for neurotransmitters, allowing scientists to study how nerve cells communicate in real time. He recently developed such a sensor to monitor nitric oxide, a molecule that plays vital roles — from destroying invading microorganisms to relaying neuronal signals — in the human body. 
Theopold says that one of the benefits of presenting a laureate's case is organizing a symposium held at the sponsor's home institution. At the April 23 symposium at UD, Amy C. Rosenzweig and Thomas V. O'Halloran, from Northwestern University, and Richard Wooster, from Blend Therapeutics, will present talks. Lippard also will speak at the event, on "Understanding and Improving Platinum Anticancer Drugs."
Among his many honors, Lippard has been elected to the National Academy of Sciences, the National Institute of Medicine, and the American Academy of Arts and Sciences. In 2004, he received the National Medal of Science, the highest science honor in the United States. He also is a recipient of the Linus Pauling Medal. 
In addition to Theopold, several other UD faculty serve on the Franklin Institute's Committee on Science and the Arts, including Pamela Green, who currently chairs the executive committee, Thomas Gaisser, Stuart Pittel, Tatyana Polenova, Krzysztof Szalewicz, David Velinksy and John Wehmiller. Robert D. Varrin, emeritus associate provost, is a consulting member.