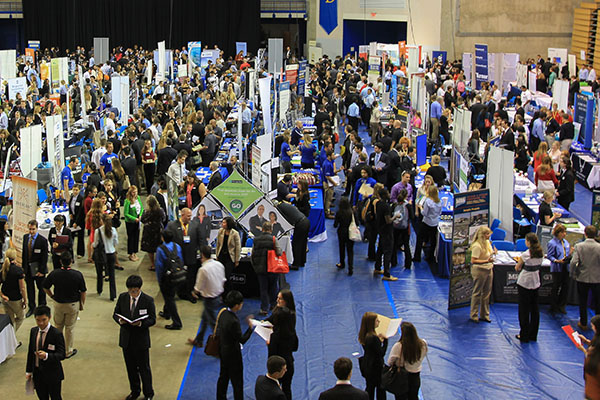 April 15: Project Search
Education job fair to bring hundreds of recruiters to campus
3:15 p.m., April 9, 2015--Over 315 recruiters representing 120 school districts from the Mid-Atlantic region and one from the United Arab Emirates will be at the Bob Carpenter Center on Wednesday, April 15, for the University of Delaware's 37th annual education job fair, Project Search: Careers for Teachers.
Project Search is one of the largest education job fairs on the East Coast. It offers opportunities for individuals to submit resumes, as well as conduct on-the-spot interviews with school districts for positions as teachers, specialists and administrators. 
June 5: Blue Hen 5K
University of Delaware graduates planning to attend Alumni Weekend are encouraged to register for the annual Blue Hen 5K walk and run, which will be held Sunday morning, June 5.
June 6-9: Food and culture series
The 20th annual June Lecture Series at the Osher Lifelong Learning Institute at UD in Wilmington will be held June 6-9. Titled 'June a la Carte,' this year's program focuses on great political documents, feminism, world politics and a Newark cuisine sampler.
Participating employers represent school districts and charter schools across Delaware, Maryland, New Jersey, Pennsylvania, Washington, D.C., North Carolina and Virginia. 
In addition, recruiters from the Delaware Autism Program, the Delaware Department of Education, ESF Summer camps in Pennsylvania, Las Americas ASPIRA Academy and Abu Dhabi International Private School will be in attendance.
"This year's Project Search has the highest number of recruiters ever, providing an amazing breadth and depth of opportunities for our students and alumni," said Cindy Holland, assistant director of the University's Career Services Center.
The job fair is free for current students and alumni, and costs $10 for non-UD candidates. 
Individuals should register for the event and plan on arriving early in order to have time to schedule interviews. Check-in will begin at 8 a.m., scheduling at 8:30 and interviews kick off at 10. 
To help students prepare for the job market, Career Services offers workshops and resources, including how to perfect a resume, hone interview skills, and develop a polished, professional presentation.  
Project Search is sponsored by Career Services and the University Council on Teacher Education. Those with interest can join the conversation on Twitter by following @UDCareers and including #UDProjectSearch. 
Article by Elizabeth Adams