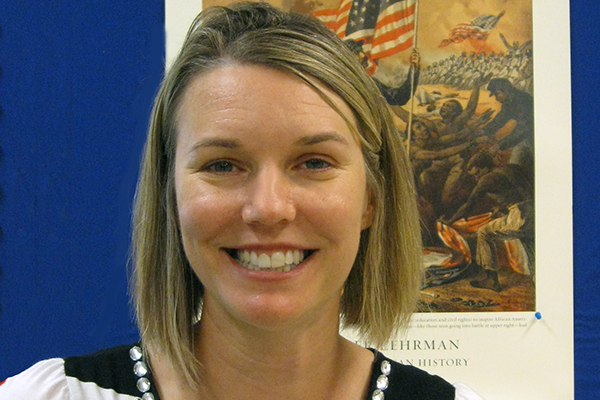 Szymanski honored
CEHD alumna named 2013 National History Teacher of the Year
8:36 a.m., Sept. 19, 2013--Jill Szymanski, a graduate of the University of Delaware's College of Education and Human Development and a fourth grade teacher at Brandywine Springs Elementary School, has been named the 2013 National History Teacher of the Year.
Judges selected Szymanski, who received a bachelor's degree in elementary teacher education in 1997 and a master's in curriculum and instruction in 2002, from a pool of teachers from 49 states, the District of Columbia, and Department of Defense schools.
National Medal of Science
President Barack Obama recently presented the National Medal of Science to University of Delaware alumnus Rakesh Jain.
Warren Award
Rosalind Johnson, assistant dean for student success in the NUCLEUS Program in UD's College of Arts and Sciences, was presented the John Warren Excellence in Leadership and Service Award during a May 26 ceremony.
Awarded by the Gilder Lerhman Institute of American History, the National History Teacher of the Year award has been presented since 2004 to full-time K-12 educators who teach American history as either an individual subject or through social studies, reading, language arts and other subjects.
Szymanski, who has been teaching for 16 years, is the first Delawarean to win the national honor. She was recognized for her commitment to pushing her students to think critically about history. She integrates extensive class projects, visits Civil War sites and explores important and interesting figures in history, such as Henry (Box) Brown, a Virginia slave who obtained his freedom by mailing himself in a box to the free city of Philadelphia in 1849.
"First and foremost I want my students to see history as something that is interesting," said Szymanski, "not just a bunch of facts. History also involves interpretations that are sometimes different and that people arrive at based on their analyses of evidence."
The project that Szymanski submitted for the national award incorporated resources and teaching strategies that she developed during her participation in UD's Teaching American History grant's Freedom Project (TAHFP). This three-year grant partners UD with the Red Clay and Christina school districts to increase levels of student achievement by improving classroom instruction in American history.
"I received this award largely as a result of my participation in the Freedom Project and the fact that I am a lifelong learner," Szymanski said. "I feel like in the past three years my history instruction has greatly improved and I attribute this to my work with the University of Delaware. The project has improved my content knowledge and given me the time and resources to make changes in my classroom." 
She has also participated in the Institute for Public Administration's Democracy Project as well as other UD programs sponsored by the Center for Economic Education and Entrepreneurship and the Delaware Geographic Alliance.
When asked how she feels about winning the award, Szymanski described it as "a bit overwhelming. It's a great honor but a bit mind-boggling to think that I was chosen from among a group of over 50 great teachers from around the country."
On Oct. 21, Szymanski will be recognized as the national history teacher of the year at a ceremony in Manhattan.
About the award
The National History Teacher of the Year Award, co-sponsored by the Gilder Lehrman Institute of American History, HISTORY (The History Channel) and Preserve America, honors outstanding K-12 educators in American history and carries a $10,000 prize.
A panel of judges comprising the previous national winner, renowned historians, professors and teachers select the winner based on criteria that includes at least three years of classroom teaching experience, a demonstrated commitment to teaching American history, evidence of creativity and imagination in the classroom, and effective use of documents, artifacts, historic sites, oral histories, and other primary resources to engage students with American history.
Article by Alison Burris