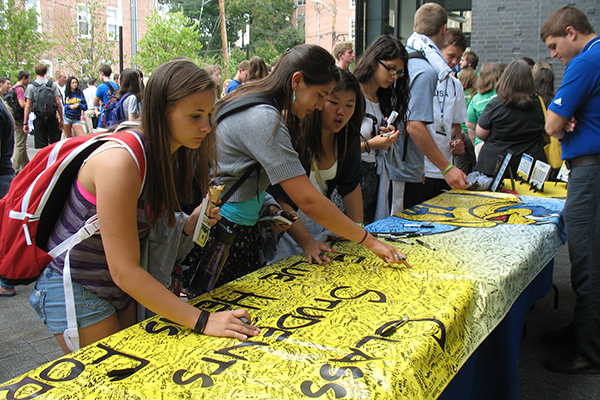 Halfway there
Class of 2015 invited to celebrate reaching halfway point of college
11:49 a.m., Sept. 11, 2013--Members of the University of Delaware's Class of 2015 are invited to a celebration marking the halfway point of college. 
The second annual Junior Class Halfway There Party is scheduled for Thursday, Sept. 19, on The Green in front of Memorial Hall. The event will be held at half past four and will last an hour and a half (4:30 to 6 p.m.).
'Resilience Engineering'
The University of Delaware's Nii Attoh-Okine recently published a new book with Cambridge University Press, "Resilience Engineering: Models and Analysis."
Reviresco June run
UD ROTC cadets will run from New York City to Miami this month to raise awareness about veterans' affairs.
The UD Alumni Association (UDAA), the Office of Alumni Relations and UDAA partner Lang Development Group are sponsoring the event to provide an occasion for juniors to celebrate the halfway mark towards becoming alumni. 
The Class of 2015 banner will be displayed, and giveaways include the Class of 2015 shirt and blue and yellow beach balls.
Enter the half-legged race tournament with a classmate to receive a half blue/half gold Class of 2015 "pinnie" and the opportunity to win a gift card to Main Street.  To enter, email alumni-association@udel.edu with the following information: team name, name and email of each participant, and preferred pinnie size. Every participant will be required to complete an assumption of risk and release form before participating. 
Students will also be able to enjoy snacks including half blue / half yellow cookies, banana and orange halves, half blue / half yellow rice krispies, and half chocolate / half vanilla cake.  Drinks include Arnold Palmers (half lemonade / half ice tea) and Mochas (half coffee / half hot chocolate).
DJ Amaze will be on hand playing half of students' favorite tunes, and other games are planned, as well. All students are encouraged to cheer on the games and join in on the fun.
Should inclement weather force the postponement of the event it will be held on Thursday, Sept.  26 at the same location. For more information, contact the Alumni Association at alumni-association@udel.edu or call Lauren Simione, associate director of alumni relations, at 302-831-1408.